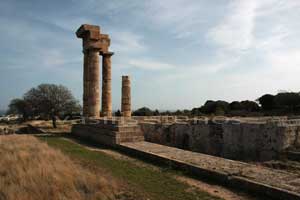 The scene was as incongruous as it was endearing: One fine spring day just as we were walking along the outskirts of the old city of Rhodes, a Chinese bride and groom Chinese– dressed in full nuptial regalia and with an entourage of friends and family, were having their pictures taken. In the distance along the quay, the gargantuan cruise ship on which they were traveling had pulled in for the day. The cruise season had just begun. Rhodes, long been a major international travel destination, and a favorite port of call for cruise ships large and small.
The island was once the locale of one of the ancient world's seven wonders, the famed Colossus of Rhodes, which towered in the harbor in the third century b.C. but left a legacy many millennia later. Much later, during the Crusades, the island's strategic location made it an important administrative center for the Knights of St. John, who established themselves there in 1309. Today the island is known for its long stretches of great beaches, its acropolis at Lindos, its old capital city, its valley of butterflies and so much more. Rhodes was a jet-setting hot spot long before Mykonos and Santorini were ever on the socialites' map. It was, in fact, the first Greek island in modern times developed specifically for tourism, an endeavor the Italians undertook while the island was an Italian protectorate. (Italy took over the island in 1912 as a victory prize in the Italo-Turkish war and ruled it through 1943.It finally passed back into Greek hands in 1947.) To this day, Italians make up a substantial portion of the visitors who flock to the island each summer.
Rhodes is a rich, fertile land with a glorious past. Even now, despite the hundreds of thousands of tourists who descend on the island each year, Rhodes is still a wonder. The old town in the island's capital is one of the best preserved medieval cities in Europe. Now, short-and-sandal-clad visitors, not the Knights of St. John, swarm the cobbled winding streets around the Castle of the Grand Masters. Dozens more 14th and 15th century buildings make up the old, walled city; many house restaurants and countless tourist shops, but many, especially outside the central part of the old city, are inhabited by locals.
Rhodes is singularly blessed with an exceptional climate and a lush interior. Despite the formidable tourism trade, farming had been developed and systematized early in Rhodes. The vine, for example, still a major crop and source of income, has been a staple from remotest antiquity. Indeed, it was Rhodes' early, ancient success as a wine-making region of great renown that brought the island so much wealth it formed a formidable navy and ran a busy grain trade. It was likely moneys from those enterprises that enabled the ancient islanders to build their famed Colossus. Agriculture also flourished under the Knights Templars, whose presence on the island gave farmers an opportunity to provide all sorts of agricultural provisions, thus spawning a vibrant trade. Agriculture, especially grapes and wine, continued uninterrupted as the islanders' main occupation, with lapses under the Ottomans, and saw a revival in the early part of the 20th century. When tourism began to supplant agriculture as the main occupation, old, traditional customs inevitable began to fray.
None the less, because most locals were farmers before jumping onto the tourism bandwagon and before hotels—many of Greece's largest complexes are here–began springing up rampantly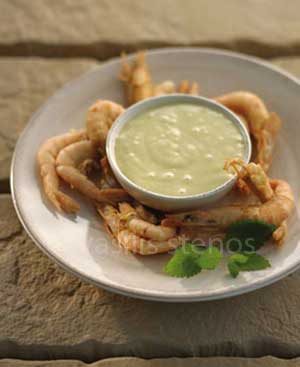 along its generous coastline, the cuisine is mostly a reflection of the island's long ties to the land, something that is easy to see once you get away from the coast, or at least from the most populated areas along the coast.
The island's interior is still lush and rural. Hints of the past surprise you when you least expect them. For example, one of the most unusual dishes in all of Greece hails from Rhodes: cyclamen leaves rolled up with a meat stuffing like dolmades. The island also was well-known for its apricots, called kaysia, which used to be made into a fruit paste. There is a long and fascinating bread and pasta tradition, with dishes that combine pasta with beans and legumes (especially chick peas and lentils) and even a few old dishes for sweet pasta that was once a rich specialty reserved solely for nursing mothers.
Once, on a ride through the dense inland part of Rhodes, I ran across little pyramid-shaped stacks of sesame drying in the late-August sun. The plant used to be a major crop here, and it still plays an important role in the local cuisine. Sesame paste (Tahini) flavors breads and sweet and savory pies. The local cuisine is filled with other, unusual dishes that call for Tahini, such as a small local pasta, called matsi, with chick peas and Tahini sauce or local pasta with a sweet Tahini sauce. There is Tahini soup, a Lenten specialty, and even whole fish served with Tahini sauce. Sesame seeds are the basis for what is arguably the island's most traditional confection, the melekouni, a kind of sesame-honey brittle that is still the traditional wedding and baptism confection. Unlike other, similar sesame products throughout Greece, the melekouni is different because it is subtly spiced with cumin, cinnamon and other things.
Spices, especially cumin and cinnamon, are a hallmark of the local kitchen, too, something shared with other parts of the southern Aegean and eastern Mediterranean, especially with Cyprus and eastern Crete. Cumin is a favorite spice, used to season everything from bread rusks to chick pea fritters called pittaroudia, which are an island specialty. These fritters aren't limited to chick peas, though; pitaroudia can be made with anything on hand. At least one, with wild mushrooms—and cumin–comes from a specific small mountain village, Masari, in the center of the island. Cinnamon is another important spice, which goes into both sweet and savory dishes.
Arguably, though, the cooking of Rhodes is defined best as a potpourri reflecting the traditions of the greater eastern Mediterranean, the four and a half decades of Italian rule, and the island's own place as a magnet for people from nearby islands, many of whom emigrated to Rhodes generations ago looking to the island, as the region's capital, because it was a more prosperous place to find work and live.
In Rhodes, the cooking of all the Dodecanese islands culminates, so that you find delicacies like the tiny shrimp of nearby Simi,which are usually pan-fried to crisp perfection. The parrotfish, a specialty throughout the Dodecanese, is popular in Rhodes, too. Rhodes shares certain cooking techniques, too, with nearby islands. One such technique is the slow-cooking of onions until they caramelize. The preparation is called syvrasi and is served as a topping over local pasta with a tart, soft cheese.
Revival
After a long hiatus, blurred by the rush to please the needs and tastes of foreign tourists, the last few years have seen a revival in local cooking. Several cookbooks on Rhodes' cuisine have recently been published or reissued. A few years ago, hotels began embracing local recipes and adding them to their otherwise international menus.
Today, several local restaurants have achieved national and international renown. Among them is the well-known Mavrikos restaurant in Lindos, a 72-year-old family establishment that serves contemporary renditions of local cuisine and uses local ingredients in highly original ways. Even the venerable New York Times has reported on Mavrikos' pounded tiny (Simi) shrimp Taramosalata, with onion, garlic and orange;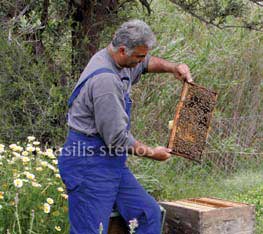 its giant beans cooked with carob; its beef braised with bergamot rind; and its local tuna cured like gravlax. Another restaurant, Ta Kioupia, brought its unique, rustic cooking to Athens with great success more than a decade ago, serving forth table-side-pounded roasted eggplant salad, black-eyed peas braised with seasonal greens, and, one personal favorite, stewed purslane, an island specialty. After changing several locations in the nation's capital, it is still going strong.
Rhodes has always shown an admirable ability to adapt to the times, and these times demand an eye to healthful foods and local specialties. Who knows, maybe those cyclamen leaves will be the next great thing to hit the food world.
This article first appeared in the GreekGourmetraveler.