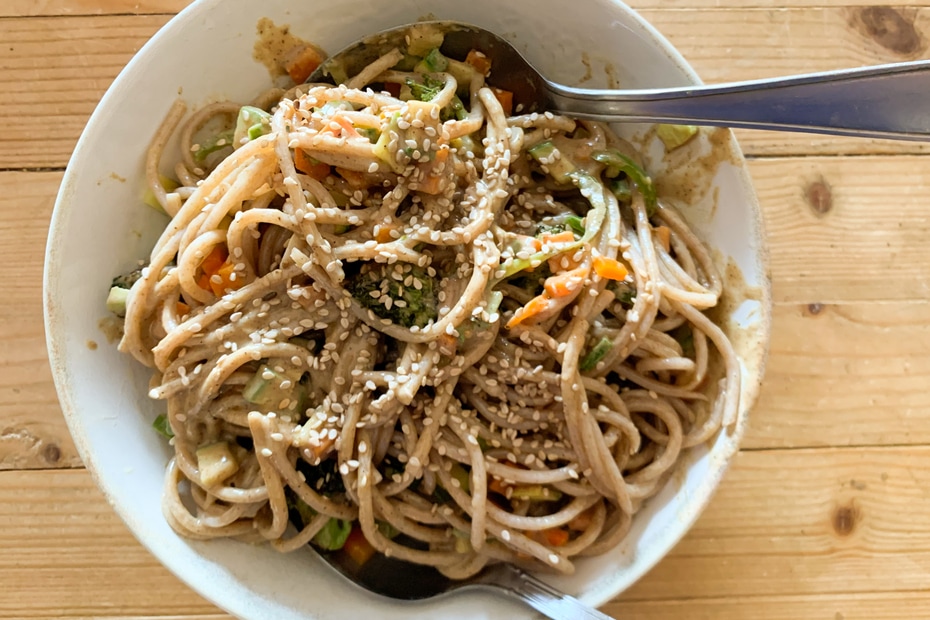 Cold Tahini Noodle Salad
---
This Mediterranean diet recipe calls for a very traditional, nutritious Greek-Mediterranean ingredient: tahini! Used all over the Eastern Mediterranean, tahini is one of the superfoods of the Mediterranean diet. While this isn't a traditional Greek recipe per se, but rather inspired by the delicious cold sesame noodles in Chinese cuisine, the extra virgin Greek olive oil, ouzo and, of course, tahini, definitely give it a Greek passport!
Ingredients
For the Tahini Sauce
1

cup raw

tahini

6

tablespoons

olive oil

6 - 8

tablespoons

soy sauce

4

tablespoons

ouzo

deglazed

2

tablespoon minced garlic or

Greek garlic paste

8 - 16

tablespoons

water

(for desired consistency)

Freshly squeezed lemon juice

(optional)
For the Noodles
½

pack whole wheat or legume-based spaghetti

3

tablespoons

extra virgin Greek olive oil

or more as needed

1

large

(or 2 medium) zucchini, trimmed and diced

1

large

(or 2 medium) carrot, peeled and diced

1

large red bell pepper

seeded and sliced thinly

3

cups

raw broccoli florets

(cut small)

2

tablespoons

sesame or nigella seeds
Instructions
Heat the ouzo in a small pot for a few minutes, to deglaze. Set aside. In a small bowl, whisk together the tahini, olive oil, soy sauce, deglazed ouzo, garlic, lemon juice, salt and enough water to make a creamy pourable sauce. Season to taste with more soy sauce and/or fresh lemon juice. Set aside.

Heat the 2 tablespoons of olive oil in a large frying pan over high heat and quickly sauté the broccoli florets. Add the carrots and stir. Add the zucchini. Stir all together quickly and gently for about 4 minutes, until al dente. Remove from heat and cool.

Cook pasta according to the package instructions, then set aside.

In a large bowl, toss together the pasta and veggies. Pour in the tahini sauce and mix everything together well. Garnish with the sesame or nigella seeds.
Want to learn more easy, healthy Mediterranean diet recipes? Sign up for my online course "Mastering the Mediterranean!"