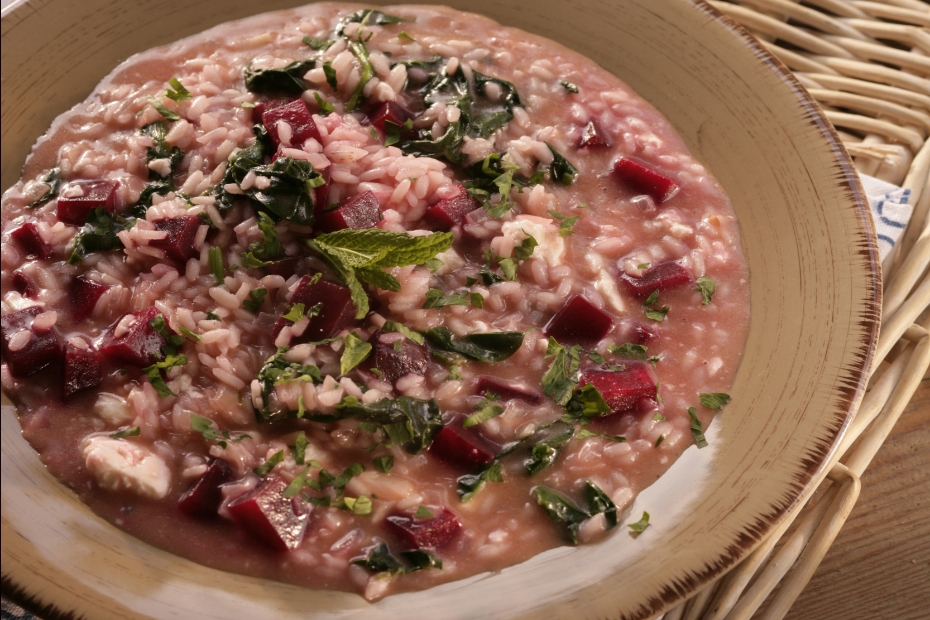 Beet Risotto with Feta
---
Beets are an unusual but delicious addition to classic risotto, made here with Greek rice or with Italian risotto rice. Greek rice is something to look for because it is naturally flavorful, thanks to the close proximity of Greek rice fields to the sea. Most Greek rice grows in Macedonia. Greek rice is also free of arsenic, which is a huge problem in American grown rice and one that has been in the news.
Ingredients
1

pound

/450g beetroot

roasted

1

bunch beetroot greens

stemmed and washed

6-7

cups

vegetable stock

as needed

2

tbsp.

extra virgin olive oil

½

cup

finely chopped red onion

1 ½

cups

Greek Carolina rice or Italian risotto rice

2

garlic cloves

minced or pressed

1/2

cup

red wine

2

tbsp

butter

Freshly ground black pepper

¼ - ½

cups

grated Greek kefalotyri

kefalograviera or Parmesan cheese

½

cup

crumbled Greek feta

2

t

bsp finely chopped flat-leaf parsley
Instructions
Pre-heat the oven to 370F/180C.

Remove the beetroots from their greens. Save the greens. Wash the beetroot well. Wrap the bulbs in tin foil and place in the oven to bake until tender, about 1 hour.

Trim the stems off the greens, leaving only the leafy part. Save the stems for another use (soups, or blanched,chopped and mixed with Greek yogurt and garlic for a variation on tzatziki).

Bring a pot of water to a rolling boil, season with salt and blanch the leaves for a few minutes, Remove and drain.

When the beetroot is tender, remove from oven, open tin foil packs carefully, and let cool slightly. Peel and cut into small cubes.

Bring the stock to a simmer in a saucepan.

Heat the olive oil and 1 tbsp butter over medium heat in a large nonstick frying pan. Add the onions and cook until the onion begins to soften, about 6 minutes. Add the garlic and sauté.

Add the rice, cook, stirring continually until the grains of rice are coated in oil and slightly translucent, about 3 minutes.

Stir in 2 ladles of the stock. Continue cooking stirring often, until the stock is absorbed. Add another ladleful or two of the stock and continue to cook until almost absorbed. Repeat this process for 15 – 20 minutes or until the rice is al dente but tender.

When the rice is cooked through, add a generous amount of freshly ground pepper, the diced beetroot and the leaves, the grated cheese, feta, and parsley. Remove from the heat. The rice should be creamy; if it isn't, add a little more stock. Stir once, taste and adjust seasonings, and serve.
Love vegetables? Want to learn more great plant-based Mediterranean dishes? Enroll in my online  class "Baked Vegetable Classics!"