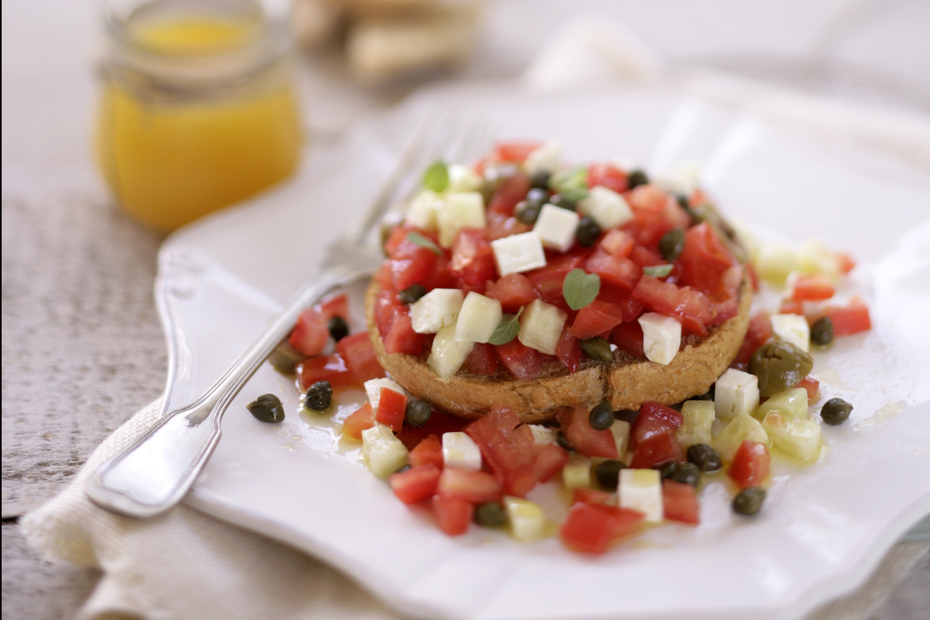 Barley Rusks, Tomatoes, Apples, and Mint (Dakos salad)
---
Rusks are an ancient food in Greece. Basically they are the twice-baked breads, in various shapes. A dearth of fuel, i.e. wood, made daily, or even weekly, baking almost extravagant in the Greek countryside. These rusks are slowly dehydrated during the second baking, which happens overnight in a wood-burning oven that is not fired up but still warm. They last forever. You can find them in Greek and Middle Eastern shops across the U.S. and Europe, as well as in select gourmet shops. I live on this dish and on variations of it all summer. It's great for breakfast, too. rehydrate the rusks by running under the tap and letting the water drip off. If you leave out the feta, this simple dish becomes a perfect Vegan dish, too.
Ingredients
3

Cretan barley rusks

1

large

firm, ripe tomato

1

Granny Smith or other apple

Juice of ½ lemon

1

medium-sized red onion

peeled and cut into thin rings

2

tablespoons

small Greek capers

rinsed and drained

½

cup

fresh mint leaves

2

tablespoons

fresh oregano leaves

3

tablespoons

crumbled Feta

1/3-1/2

cup

extra-virgin Greek olive oil
Instructions
1. Run each of the barley rusks under the tap or dip them for a few seconds in a bowl of cold water. Hold them up and let the water drip off completely. Break the rusks up into large chunks and place in a serving bowl.

2. Wash and dry the tomato. Cut into ½-inch cubes and add to the rusks, tossing with a little salt. Wash, peel and grate the apple along the wide-toothed side of a handheld cheese grater, working carefully down to the core. Sprinkle the lemon juice over the apples. Top with the onions, capers and herbs. Sprinkle with feta. Pour the olive oil over the salad, season with additional salt, toss well and serve.
Love vegetables? Want to learn more great plant-based Mediterranean dishes? Enroll in my online  class "Baked Vegetable Classics!"