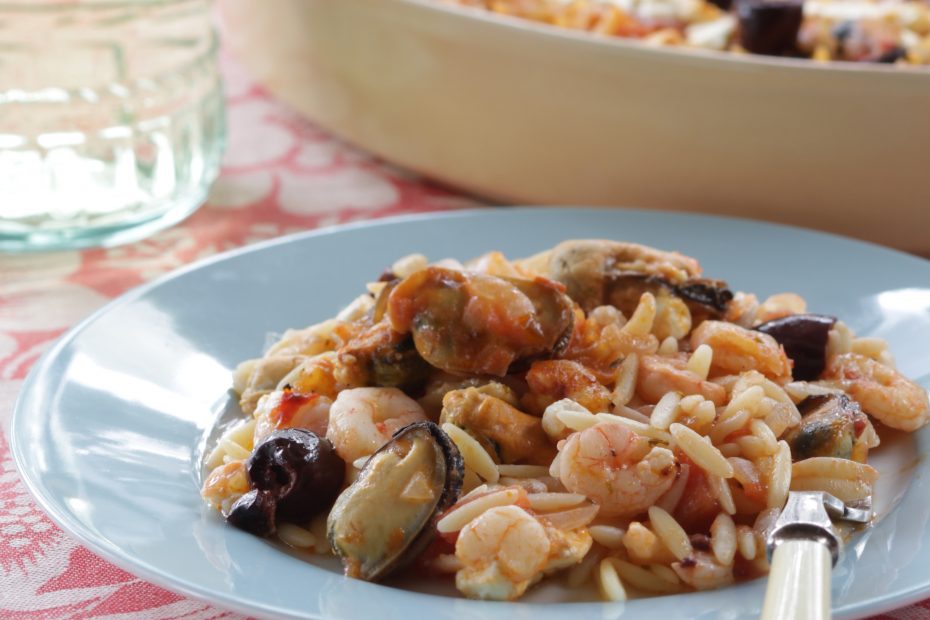 Baked Seafood Orzo with Kalamata Olives
---
Orzo is one of the most popular Greek pasta shapes. In Greek, it's called kritharaki. To find some of the artisinal Greek products you'll need to make this, visit my online shop
here
, where you'll discover a host of lovingly curated Greek ingredients.
Ingredients
1

pound

orzo

1

large red onion

finely chopped

4

garlic cloves

minced

3

cups

chopped tomatoes

good quality canned are fine

Pinch

of hot sauce or hot pepper flakes

optional

½

cup

white wine

plus one cup if using whole, unshelled mussels

2/3

cup

pitted Kalamata olives

2

pounds

mussels in their shell

or 2 ½ cups shelled, frozen mussels, defrosted

2

cups

cleaned

shelled small fresh or frozen and defrosted shrimp

½

cup

chopped fresh oregano

½

chop chopped fresh parsley
Instructions
Preheat oven to 350F / 175C.

Bring a pot of water to a rolling boil and salt generously. Add the orzo and simmer until al dente. It should be a little underdone. Drain, transfer back to the hot pot and toss with 2 tablespoons olive oil.

While the orzo is boiling start the sauce: Heat 3 tablespoons olive oil in a large, wide pot or deep skillet and cook the onion over medium heat until wilted and translucent, about 8 minutes. Stir occasionally. Add 3 of the 4 chopped garlic cloves and stir.

Pour in the tomatoes. Bring to a boil and add the wine. Simmer until the alcohol has cooked off. Add 1 cup of hot water, the star anise and hot sauce or hot pepper flakes, and season with salt and pepper. Cook the sauce over medium heat for 15 minutes, until slightly thickened. Add the olives to the sauce five minutes before removing from heat.

While the sauce is simmering, work the seafood: If using mussels in the shell, make sure they are cleaned and well-washed. Steam them in two inches of wine in a wide pot with the lid closed, over high heat, until they open. You can herbs or garlic if you want to the steaming liquid, before adding the mussels. Remove and strain in a fine-mesh sieve, reserving the liquid.

Heat 2 tablespoons olive oil in the same pot and add the shrimp and remaining garlic. If you are using already shelled mussels that have been defrosted, drain them and add them to the shrimp. Stir over medium heat until the shrimp start to turn pink. Remove.

Toss the mussels and shrimp, the reserved steaming liquid if available, and the pan juices from lightly sautéeing the shrimp into the tomato sauce. Stir in the oregano and parsley. Remove the star anise.

Oil a large baking dish, preferably ovenproof glass or ceramic. Place the orzo in the baking dish and mix in the sauce thoroughly. Pour in any remaining olive oil.

Bake, covered, for about 25 to 30 minutes, or until the orzo is fully cooked. Remove, cool slightly, and serve.