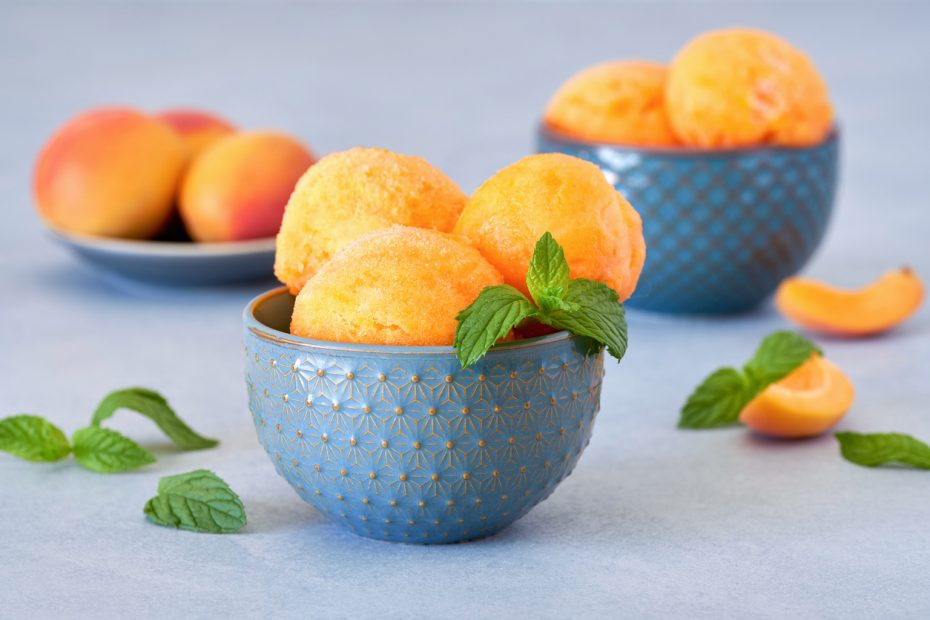 Apricot-Greek Herb Sorbet
---
SORBET INDULGENCE I love anything cold and sweet and am always up for a great sorbet, even if it does mean indulging in a little sugar. Part of the philosophy of eating the Ikaria way is to eat with a sense of balance, and the occasional indulgence makes life pleasant! Fruit sorbets are a good way to indulge in some dessert now and then without dipping into something super fatty like ice cream or pastry. And, you do get all the benefits of the vitamins and minerals in those delicious fresh apricots!
Ingredients
½

cup

camomile - sage infusion

see below

1

tsp

dried chamomile

3

sage leaves

1

cup

water

1

pound

ripe organic apricots

pitted

1

cup

organic cane sugar

4

Tbsp

Greek honey or maple syrup

1

Tbsp

fresh strained lemon juice
Instructions
Make the Greek tea infusion:

About an hour before starting the sorbet, make the herbal infusion. Bring a half cup of water to a boil in a small pot. Add the chamomile and sage. Remove from the heat, keeping the pan covered with a kitchen cloth. Let cool and filter.

Make a syrup by combining the herbal infusion, honey, sugar and water in a saucepan. Bring to a boil and simmer for 8 minutes. Add the sliced apricots and lemon juice and simmer for five minutes.

Using an immersion blender or a food processor, puree the apricot-syrup mixture. Strain the mixture into a bowl and chill it for two hours.

Place the mixture into an ice cream maker and follow the directions for making sorbet. If you don't have an ice cream maker, no worries! Place the mixture into a freezer-safe container (I use metal) and freeze the sorbet for at least 4 hours or overnight.