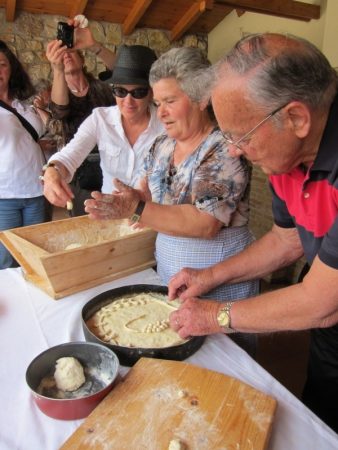 A tour of the Peloponnese reveals one thing above all else: the ubiquitous presence of Greece's most important tree, the olive tree, which seems to grow just about everywhere here, from craggy mountain slopes deep in the Mani to the great plain of Messinia, to the region's northern reaches, along the coast of the Corinth Canal.
The olive and its oil define the table here probably more than any other raw ingredient, although the cuisine of the Peloponnese is perfumed by the region's rich agricultural products. Among them: lemons and oranges, grapes and all their byproducts–from luscious sweet wines, dry wines, and fragrant whites, to raisins, currants, and vinegar–to renowned eggplants, excellent tomatoes, and a whole cornucopia of other garden vegetables and herbs. Roosters, rabbits, salt cod, and quail are among the stars of the Sunday meal. The pig and all its glorious goods, from orange-flavored sausages to cured fillets preserved in olive oil, provide the traditional winter sustenance. One of the most beloved regional dishes is a simple omelet called kayianas with tomatoes and cured pork.
At least one vegetable has a claim to local fame, the long, thin, light-purple eggplant known as Tsakoniki, for the area around Leonidio, on the eastern coast, where it is grown. Every summer locals even hold an eggplant festival, replete with all the ribbon-cutting pomp such a feast demands.
Artichokes are a springtime staple and something of a love affair exists between traditional cooks and their thorny, purple-green crop: They roast them with lamb in a classic Easter dish from the Mani; Among other things, they braise them with spinach; simmer them with chicken and avgolemono, the classic Greek egg-and-lemon sauce that lends its dense, velvety texture to so many dishes, from soups to stews.
of the Peloponnese is simple and straightforward. Some of the best meals here are those made in one pot, deliciously unctuous stews of dried beans and greens, of chicken slowly cooked in a hearty sauce made up of nothing more than onions, local feta (a PDO cheese), and copious amounts of both onions and olive oil.  Black-eyed beans are a favorite, simmered with chard and spinach and whole bunches of wild chervil. Cabbage, called mappa, a transliteration of the English "mop," for the way it looks when shredded, is coupled with pork in a classic local winter dish.
Cinnamon is a favorite spice, infusing almost every tomato-based sauce with its heady, warm aroma. It's even dusted into typically lemon-scented braised artichokes. Peloponnese cooks have a penchant for sweetening all sorts of otherwise savory dishes, with spices like cinnamon, or with raisins, one of the region's most important crops. Raisins even appear paired with salt cod in one of the most unique dishes in Greece, and they dot a fish dish called savoro, which is also seasoned with rosemary, vinegar and tomatoes.
Everywhere though the emerald-gold liquid from the region's most precious crop, the olive, runs profusely. Even in the pastry traditions of the Peloponnese, olive oil is an important ingredient, used to fry the pencil-thin dough fritters called lalangia, which are served either with honey or grated cheese; used to fry the classic wedding sweet, diples, a large, almost wallet-sized dough fritter, drizzled with generous amounts of honeyfried in with generous amounts of olive oil, drizzled with honey and sprinkled with walnuts and cinnamon; spent with abandon in classic Greek cookies elsewhere made with butter, such as the nut-specked melomakarona and the sugar-dusted shortbread cookies, kourambiedes.
If You Want to Cook Peloponnese Away from Home!
While it's almost impossible to translate true regional dishes outside their birthplace, there is always a palette of flavors that define any given table. With this palette in hand, chefs can create dishes inspired by the traditions of a faraway place. In the Peloponnese, the spectrum of flavors and flavor combinations would definitely include:
Sauces:
•         Classic Greek Avgolemono (the egg-lemon liaison), sometimes enriched with tomatoes in the Peloponnese
•         Tomato sauces seasoned with cinnamon
•         Skordalia (a garlic-bread combo in the Peloponnese) flavored with vinegar and sometimes with walnuts; used a sauce, too, for rabbit, pork, and fried artichokes
•         Onion-based sauces, cooked until the onions are almost an emulsion; with chicken and feta; with goat and olive oil
Typical Combinations:
•         Tomatoes, cinnamon, allspice, raisins
•         Greens (chard, spinach, and other sweet leafy greens) braised with tomatoes, onions, feta and herbs; simmered with dried beans, from cranberry beans to black-eyed-beans to Greek giant beans; stewed with salt cod, lamb or goat, chicken.
•         Savoro (sweet-and-sour small, fried fish)
•         Orange Braised with Spinach and Garlic, a specialty of the Mani
Specialties to Consider:
•         Lalangia (thin, fried dough, with either cheese or honey)
•         Pastelli, sesame seed, brittle served with ouzo, an old favorite in local cafes
•         Reconstituted Dried Figs, Poached in Salt Water and Roasted in Embers (a home-cook's winter delicacy)
•         Pasta Pie (pasta wrapped in phyllo)
•         Quails Baked in Bread, one of the region's traditional, but spectacular, dishes
•         Chestnut Skordalia, a specialty of Arcadia
Ingredients to Look For:
•         Great extra-virgin olive oil
•         A whole range of olives, including the world-famous Kalamata and the sprightly cracked greens from Nafplion
•         The sweet wine Mavrodafne, with a gamut of uses in the pot as well as in the glass
•         Tiny square egg noodles, excellent with homey roasted birds