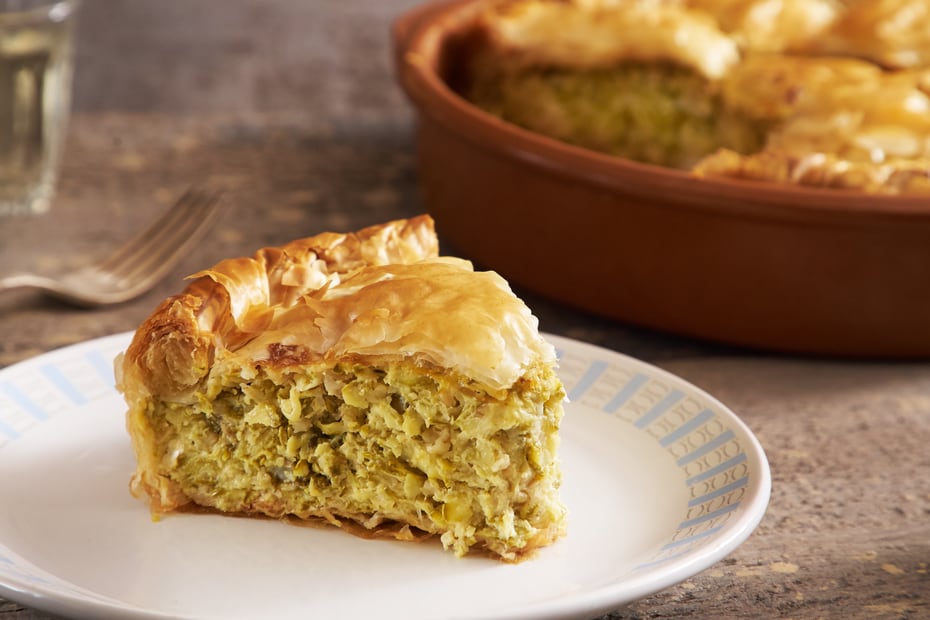 Zucchini Pie with Yogurt and Fresh Mint
---
The tangle of zucchini that overflows in Greek summer gardens means that all over the country the number of regional recipes is mind-boggling. Savory pies filled with zucchini are just one category of dishes that call for this summer creeper! There are literally dozens of savory pies filled with zucchini, all slightly varied from place to place and cook to cook. This pie, with Greek yogurt, hails from the north.
Ingredients
4

pounds

/1.8 kilos zucchini

½

cup

extra virgin Greek olive oil

plus more for assembly

1

cup

Greek yogurt

1

cup

grated Kefalotyri cheese

1

cup

crumbled feta

3

large eggs

lightly beaten

1/2

cup

rice

trahana, or bulgur

1

cup

chopped fresh mint

1

one-pound box #4 commercial phyllo.
Instructions
Trim off the stem and root ends of the zucchini. Wash and pat dry. Grate the zucchini along the coarse side of a hand-held grater or in a food processor with the grating attachment. Line a colander with cheesecloth. Place the zucchini in the lined colander, toss with 2 teaspoons of salt, place a plate and a weight on top and leave the grated zucchini to drain in the sink for 2 hours.

Pull up the ends of the cheesecloth then squeeze and wring the zucchini to get out all the excess moisture. Transfer the drained zucchini into in a clean bowl.

Add the olive oil, yogurt, cheeses, eggs, trahana, rice or bulgur, pepper, and mint to the zucchini and mix well with a fork. Taste and adjust seasoning with salt, as needed.

Brush a 13 X 9 X 2-inch / 33 X 23 X 5-cm baking pan baking pan with olive oil and place 8 sheets of phyllo on the bottom, brushing each with olive oil as you layer them. Spread the filling over the top phyllo evenly and cover with an additional 6 sheets, brushing each of them with olive oil. Press down gently. If there is overhang, pinch the excess edges together and roll in to form a rim. Score into rectangular serving pieces and bake as above, at 350F/180C, for about 50 minutes, or until the phyllo is golden.
Love savory pies and phyllo specialties? Sign up for my online class "Fearless Phyllo – Homemade!" to learn the secrets of making great, easy pies at home!