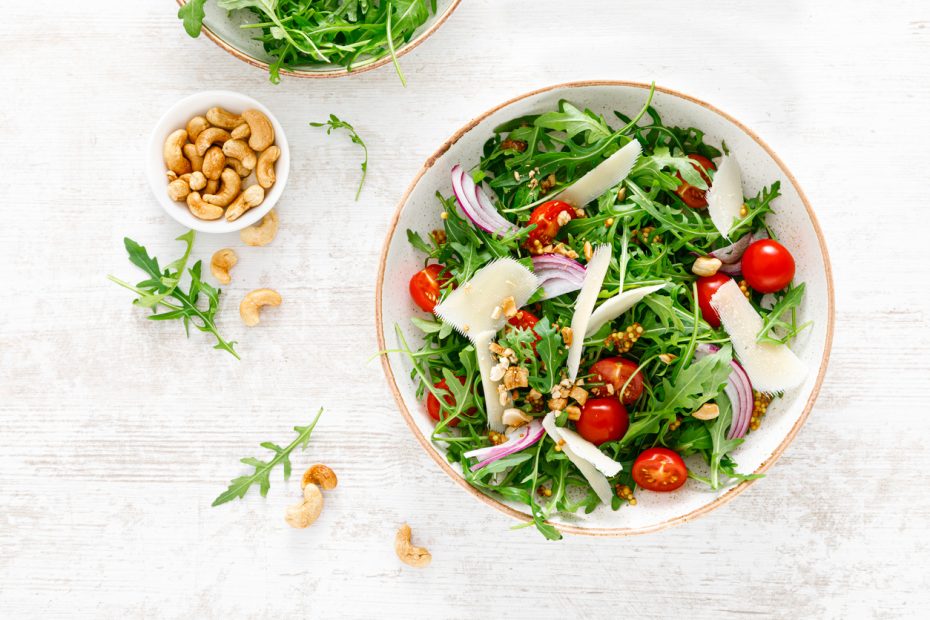 Superfood Greek Salad with Arugula, Cashews & Tomatoes
---
The Greek diet is all about freshness and plant-based Mediterranean recipes! Indeed, the Greek diet is the original Mediterranean diet. No meal is complete in Greece without a Greek salad, but that's not always what you think. It doesn't have to be the classic "Greek Village Salad" of tomatoes, cucumbers, peppers, onions, olives and feta. It can be anything that's in season and fresh. This superfood arugula salad is one example of the deliciousness of salads in the Greek diet. It's also a good representation of how "non-Greek" foods like nuts, int his case cashews, have been embraced in the modern Greek diet. The basics are the same, but with a whole new world of ingredients at our fingertips, the combinations are endless. Arugula, great Greek extra virgin olive oil, juicy tomatoes and nuts form the foundation of this Greek salad.
Ingredients
4

cups

baby or wild arugula

1

cup

teardrop or cherry tomatoes

halved

3

tablespoons

unsalted cashews or toasted pine nuts

1

small red onion, halved and sliced

Arils of ½ a pomegranate

(optional)

3

ounces

Greek kefalogravera, graviera or parmigiano cheese

shaved

3

tablespoons

fresh orange juice

1

teaspoon

Dijon or other mustard

2

tablespoons

balsamic

8

tablespoons

extra virgin Greek olive oil
Instructions
Place the arugula in a salad bowl. Add the tomato halves. If using cashews, chop them and add to the salad. If using toasted pine nuts, add them instead. You can also add pomegrante seeds if you like, which add a nice tart burst of flavor as well. Strew the onion slices and shaved cheese over the top of the salad.

Whisk all the ingredients for the dressing. Pour the dressing over the salad, toss and serve.