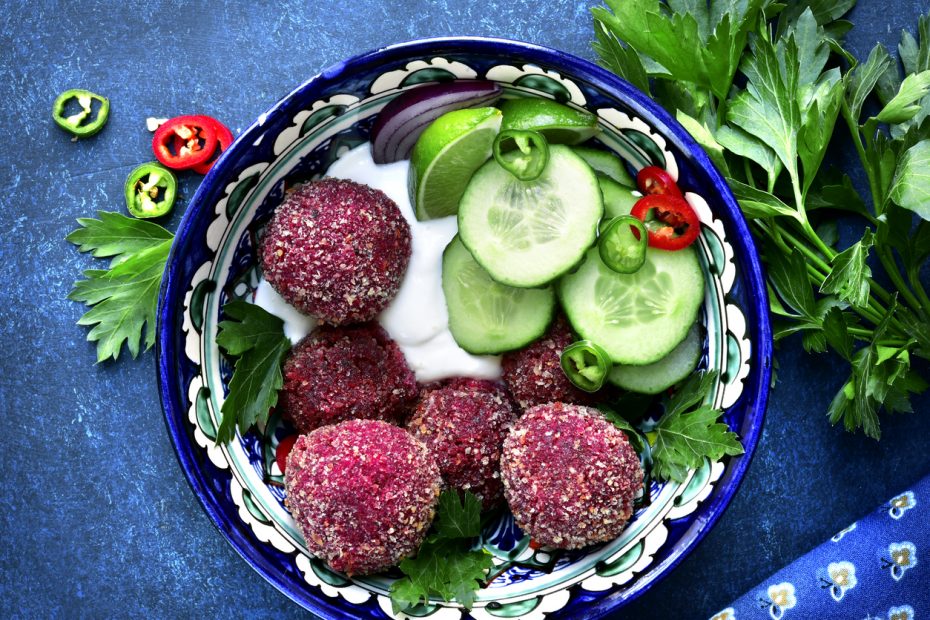 Spicy Chickpea Beetroot Falafel Garnished With Cucumbers And Yogurt
---
FALAFEL 101: The origin of falafel is highly debated. Most likely, it was born in Egypt and then spread throughout the region of the Middle East. It's believed that the word falafel could come from the word fūl, which means fava beans, as this was its first main ingredient. In modern times, falafel has been considered the national dish of Egypt, Palestine, and Syria. The recipe varies from region to region. In a few regions, falafels are made out of chickpeas or entirely out of beans, and even mix the two. In Lebanon, for example, tahini is added to falafel. The resulting mixtures can then be seasoned with cumin, flat parsley, coriander, lemon and/or garlic. In many cases, chili pepper is also added to the mix.
Ingredients
1 15-

ounce

can of chickpeas

rinsed and drained

4

cloves

garlic

skins removed

1 ½

cups

coarsely chopped parsley

plus more for garnish

1 ½

cups

shredded raw beets

A pinch ground cumin

A pinch spicy paprika

Sea salt

and freshly ground black pepper, to taste

1

Tbsp

tahini

2

Tbsp

fresh lemon juice

1-3

Tbsp

all-purpose flour

as needed

3

Tbsp

extra virgin Greek olive oil

2

cucumbers

thinly sliced

1

cup

Greek Yogurt

2

dried red chilies

thinly sliced

Toasted pita

to serve (optional)
Instructions
Heat oven to 375 F/ 190 C, and line a baking sheet with parchment paper. Add chickpeas to the baking sheet and bake for about 10 minutes until slightly cracked and dried out. Set aside.

In a food processor, add garlic, parsley, and pulse to chop into small bits. Then add baked chickpeas, 1 ½ cups shredded beets, cumin, paprika, salt, pepper, tahini, and lemon juice, and pulse for about 15-30 seconds. The mixture shouldn't be puréed. You can adjust the texture if too wet by adding a little flour. If too dry, add more tahini or lemon juice. Adjust seasonings as desired.

Scoop out 1 ½-tablespoon portions of the falafel mixture, and form them into 12 falafel balls with your hands.

Arrange falafel on the parchment-lined baking sheet from earlier. Brush with oil for a crispier texture, and bake for 20-30 minutes or until crispy outside.

Enjoy with sliced cucumbers and 1/4 cup Greek Yogurt for each portion. Garnish with chopped parsley and serve.