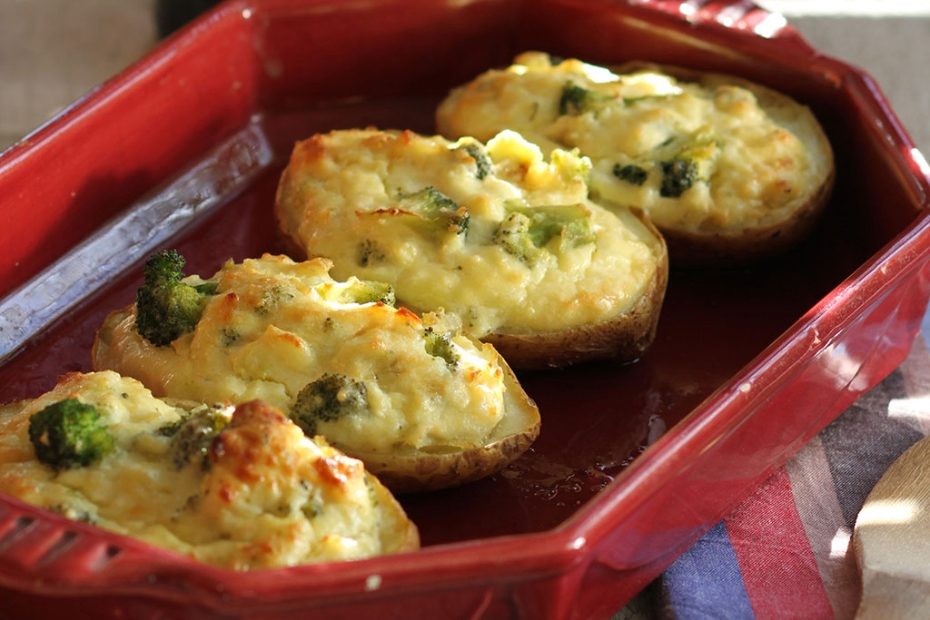 Potato Skins Stuffed with Charred Broccoli, Feta & Greek Yogurt
---
Tater skins stuffed with charred broccoli, Greek yogurt, a bit of lovely Greek mustard, feta and sautéed onions and garlic...how can you go wrong! Drink a glass of white wine from Monemvassia in the Peloponnese with this. To find some of the Greek specialties called for in this recipe, visit my online shop!
Ingredients
1 ½

cups

small-cut broccoli florets

preferably fresh

4

large baking potatoes

skins on

1

small red onion

finely chopped

2

garlic cloves

minced

1

heaping tablespoon Greek mustard

2/3

cup

Greek yogurt

½

cup

Greek feta

1

teaspoon

grated lemon zest

1

Large egg

lightly beaten
Instructions
Preheat the broiler. Toss the broccoli with salt, pepper and 2 tablespoons of olive oil and place on a sheet pan lined wth parchment. Broil six inches from heat source for about 7 – 9 minutes, turning, until lightly browned and charred. Remove, set aside, and cool.

Lower the oven to 375F / 190C. Rinse and dry the potatoes. Rub with a little olive oil and place on a baking sheet. Roast for about 30 minutes, or until softened but not totally baked through. They need to be firm enough to hold up when cut.

As the potatoes bake, prepare the filling: Heat 2 tablespoons olive oil in a large skillet over medium flame and cook the onions until soft, about 7 – 8 minutes, stirring. Add the garlic and stir around for a minute to soften. Transfer the mixture to a mixing bowl.

Remove the potatoes from the oven and let cool slightly. Keep the oven on.

Cut the potatoes in half lengthwise to get two long, oval halves. Score the flesh with a paring knife and using a teaspoon scoop out as much of the flesh as possible without tearing the potato skins. Set the flesh aside in a separate bowl.

In a medium mixing bowl, whisk together the Greek yogurt, mustard, egg, remaining olive oil, crumbled feta and lemon zest. Add about half of the potato pulp and the broccoli-onion-garlic mixture and stir gently to combine. Season with salt and pepper to taste.

Place the potato halves on an oiled baking dish and spoon the filling into each skin so that it is a heaping mound. Place back in the oven and bake for about 20 minutes, or until lightly golden and bubbly. Remove and serve hot.
Love vegetables? Want to learn more great plant-based Mediterranean dishes? Enroll in my online  class "Baked Vegetable Classics!"