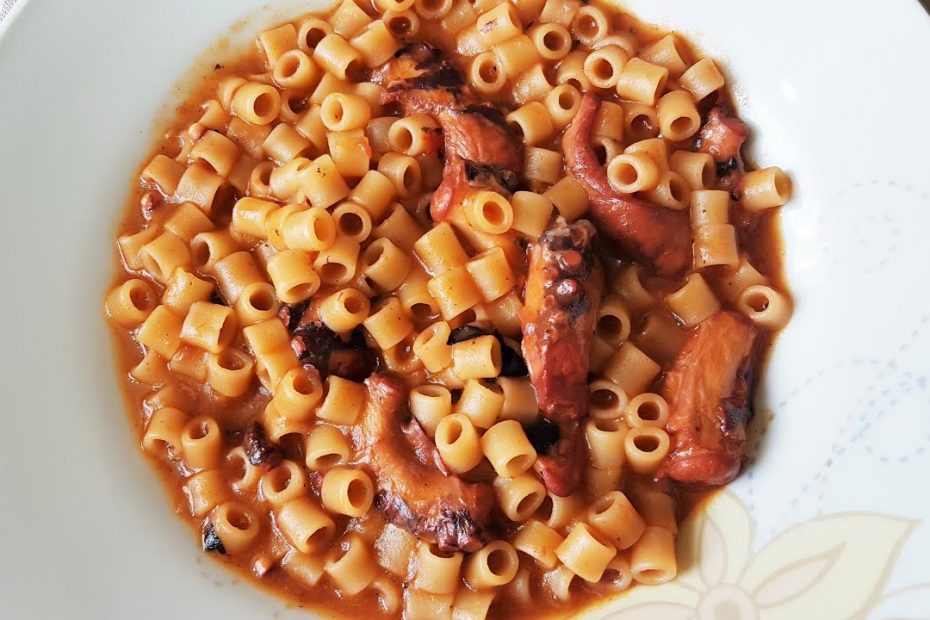 Octopus with Short Pasta / Htapothaki me Kofto Makaronaki
---
Maybe only the Greeks could consider octopus comfort food, but that is exactly what this dish is. Cooked slowly, the octopus exudes the most delicious juices, and these in turn find their way into the sauce for the pasta. My kids love this recipe. It's a Lenten / fasting classic, but I cook this throughout the year. Use great Greek olive oil, tomatoes, and herbs and you'll travel with the first bite all the way to Greece. To find Greek ingredients go to my online store
here
.
Instructions
Clean the octopus: remove the hood and discard. Cut just below the eyes and remove the beak by squeezing it out. Cut the octopus into eight pieces, along its tentacles.

Place the octopus and onion in a wide, heavy pot together with 3 tablespoons olive oil. Cover and cook over very low heat, until the octopus exudes its juices and turns deep pink, and the onion is very tender, about 25 minutes. Remove the octopus and cut into nugget size pieces.

Add the garlic to the pot and stir over medium heat for a minute or so. Place the octopus pieces back in the pot, together with the bay leaves, tomatoes, and orange zest. Bring to a boil over medium-high heat. Add the wine. Reduce heat and simmer for another 25 minutes over medium – low heat, or until the sauce is thick. A few minutes before removing from heat, stir in the vinegar and sugar.

While the octopus is simmering, boil the pasta. Drain and toss with the olive oil. Serve the octopus over the pasta.