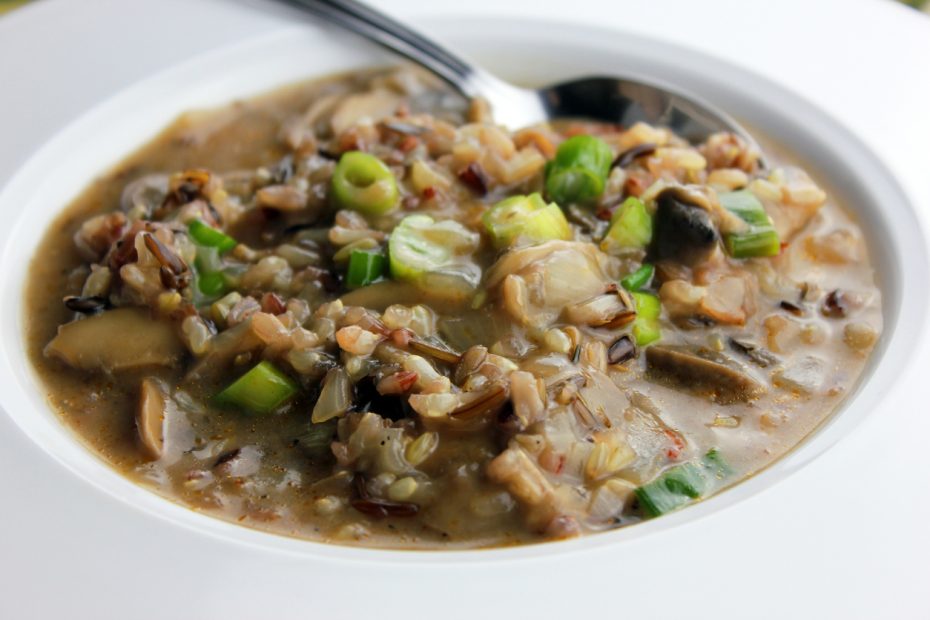 Mushroom Vegetable Soup with Wild Rice and Herbs
---
ABOUT WILD RICE - NUTRITION: Wild rice is a nutrient-rich food and contains manganese, phosphorus, magnesium, and zinc. It's also gluten-free and has more protein than regular rice. SOAKING VS NOT SOAKING: Soaking wild rice is beneficial but unnecessary. It's usually done to reduce the cooking time; however, it doesn't affect the texture of the finished product.
Ingredients
4

Tbsp.

extra virgin

Greek olive oil

1

white onion

finely chopped

3

garlic cloves

finely chopped

½

celery

finely chopped

1

small carrot

peeled & thinly sliced

8

oz.

cremini or oyster mushrooms

sliced

1

cup

wild rice

1

pinch

dried thyme

1

pinch

dried oregano

1

pinch

dried rosemary

4

cups

lower sodium vegetable broth

2

spring onions

thinly sliced, for garnish
Instructions
In a large stockpot, heat oil over medium-high heat, add rice and stir to coat. Let the rice cook for a couple of minutes to lightly toast the grains. Stir in dried herbs and season with salt and pepper. Add broth and 1 cup of boiling water and stir well. Bring the mixture to a low boil, cover, reduce heat to medium-low, and simmer for 45 to 60 minutes or until the rice is tender.

In a frying pan, heat oil over medium-high heat. Once hot, add the onion, garlic, carrots, and celery, and cook for 8 minutes or until softened. Add mushrooms, and stir to combine. Cook for 6 to 8 minutes, occasionally stirring, until the mushrooms are soft and slightly golden.

When the rice is still al dente, add the contents of the frying pan and stir to combine.

Remove from heat, adjust seasoning, garnish with spring onions and serve.