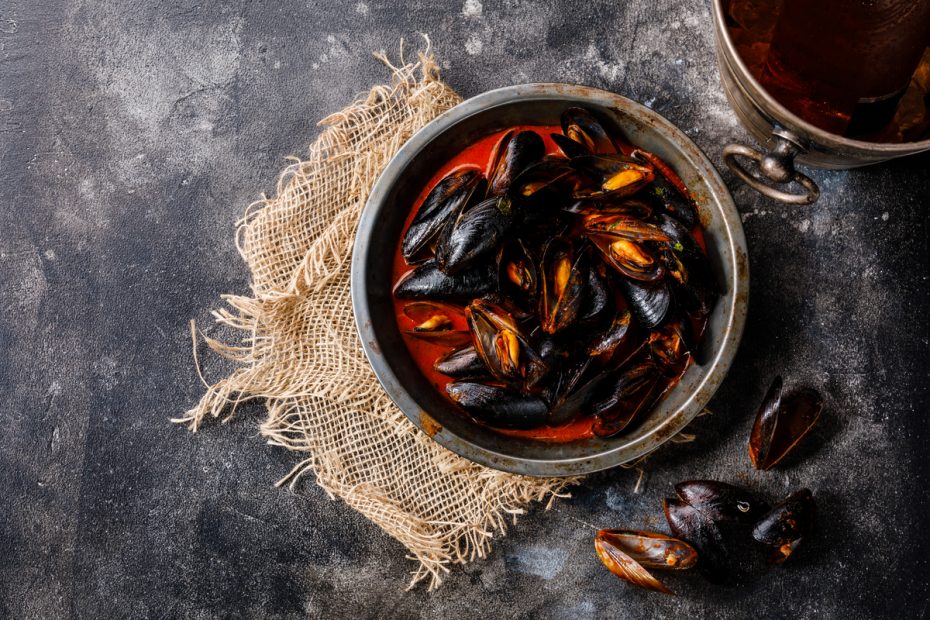 Steamed Mussels in Lemony Tomato Sauce
---
This yummy Greek recipe for lemony mussels in tomato sauce is not only delish, it's nutritious, too. Mussels are a great source of low-fat protein, vitamin B12 and various other B vitamins, all of which play a role in energy production, forming red blood cells, and supporting immune and cognitive health. They're also a rare animal-based source of Vitamin C. But even more than that, from a cooking perspective, mussels, which have been part of the Greek diet for thousands of years, are so versatile and easy to cook they make for the perfect Mediterranean diet ingredient.
Instructions
Transfer the mussels into a large bowl of cold water. Swish them around with your hands to wash them thoroughly and to help release any sand that might be lodged between the shells. Pull off the beards using a knife. Rinse the mussels again in fresh cold water and drain in a colander.

In a large, wide pot over medium flame, heat the olive oil and sauté the onion until soft, about 10 minutes. Add the garlic and cook for about half a minute. Stir in the tomato paste and swirl it around the pan. Next, add the tomatoes and white wine. Add the lemon zest, bay leaf, oregano, salt and pepper.

Bring to a boil, then reduce heat and cook the sauce for about 15 minutes or until thickened.

Add the mussels. Cover and raise heat to high. Cook the mussels, shaking the pot back and forth a little, for about 4 to 5 minutes, or until the mussels open. Serve hot, removing any mussels whose shells have not opened.
Notes
Note: If you're using frozen unshelled mussels, you can add them directly to the sauce.If you're using frozen shelled mussels, you'll need about 1 pound and should add them to the sauce during the last 6 to 7 minutes of cooking. Defrost them before adding to the sauce.