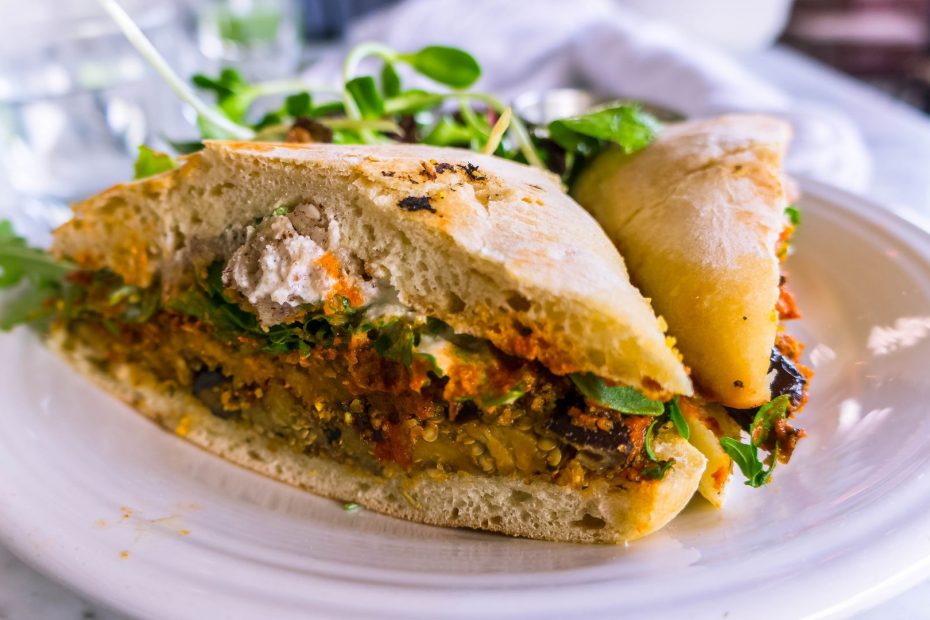 GRILLED EGGPLANT PANINI
---
Chipotle peppers aren't a traditional variety in the Mediterannean, but this dish was born out of my work in the kitchen at New York's Pylos, where the chef, Juan Tzitzimititla, sometimes throws together what I like to call Med-Med treats for himself and his Mexican cooks. Munch on this simple sandwich at lunchtime with a tall, cold beer.
Ingredients
1

medium eggplant

about 1 pound

2

bell peppers

1

cup

Greek-style strained yogurt

⅓

cup

tahini

¼

cup

chopped chipotle peppers

or more to taste

2

Tbsp

fresh thyme

3 to 4

Tbsp

fresh lemon juice

½

cup

extra virgin olive oil

4

pita breads

1

small bunch arugula

trimmed and torn

1

large red onion

halved and thinly sliced
Instructions
Cut the eggplant into ⅛-inch rounds. Layer and salt in a colander, place a weight, such as a plate and several cans on top, and let drain for 30 minutes. Remove and pat dry the eggplant slices.

Heat the grill to medium.

Make the dressing: Grill the bell peppers over medium-high heat, turning, until the skins are charred and the flesh is soft, 10 to 12 minutes. Let cool down slightly. Peel and seed the peppers and place them in the bowl of a food processor. Pulse and off to puree. Add the yogurt, tahini, chipotle peppers, thyme, lemon juice, salt, and pepper. Puree at high speed. Add between ⅓ and ⅔ cup water, as needed, to adjust the consistency of the dressing, which should be as dense as a thick batter. Set aside.

Place the olive oil in a medium bowl and toss in the eggplant slices. Grill over medium heat, flipping once, and remove when the slices are tender but not so soft that they disintegrate, 3 to 4 minutes per side. Brush the pita breads with the remaining oil and grill slightly to brown lightly.

Spread about 1 tablespoon of the dressing over each pita. Top with the grilled eggplant, arugula, and onion. Roll up and secure closed with a toothpick. Pour the remaining dressing into each pita roll. Wrap the bottoms if desired with waxed paper or aluminum foil, and serve immediately, with plenty of napkins.
Love vegetables? Want to learn more great plant-based Mediterranean dishes? Enroll in my online  class "Baked Vegetable Classics!"