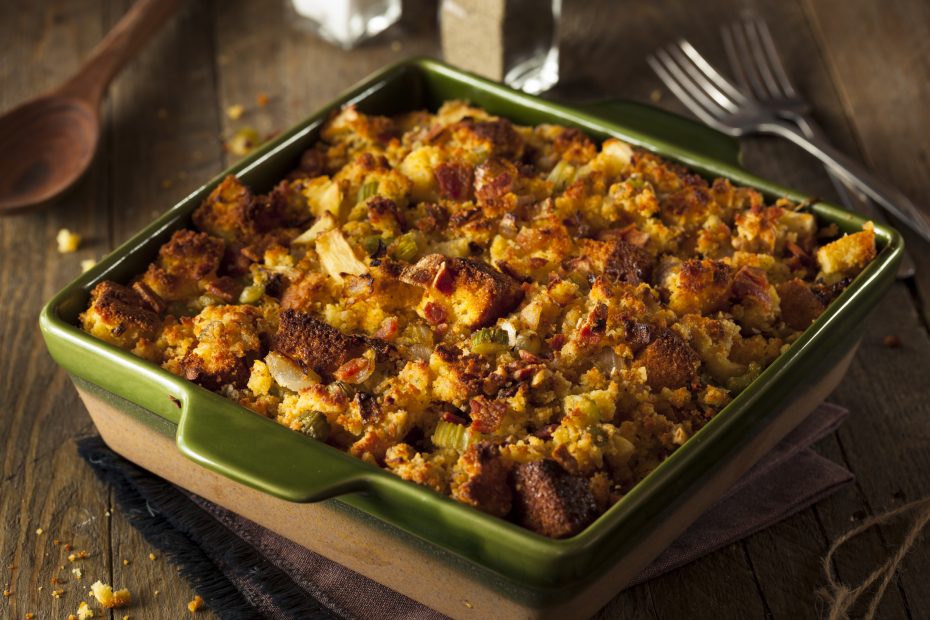 Greek-Olive Bread Stuffing
---
Notice the hyphen in the title! This delicious Greek recipe for stuffing, which you can either bake inside a whole bird or separately, as a casserole. I love to combine all the earthy flavors of Greek autumn in my stuffing, which is why there is a trinity of Greek olives (I love both our prune olives and the classic Kalamatas), Northern Greek roasted red peppers, and Greek figs. The dried wild Greek herbs and raisins round out the flavors. It doesn't have to be Thanksgiving to enjoy this Greek recipe for stuffing.
Ingredients
½

cup

1 stick unsalted butter

2 1/2

cups

chopped scallions

1

large red onion

finely chopped

3

tablespoons

minced garlic

1 1/2

cups

chopped fresh parsley

1

tablespoon

chopped fresh rosemary

2

tablespoon

dried wild Greek thyme

1

tablespoon

dried wild Greek mint

1

tablespoon

dried wild Greek oregano

1

cup

dark

seedless raisins

1

cup chopped

dried Greek figs

1/2

cup

chopped pitted Greek prune or Kalamata olives

12

cups

1/3-inch cubes trimmed country-style white bread

Canned low-salt chicken broth
Instructions
Heat the butter and olive oil together in large pot over medium-high heat. When the butter has melted, add the the onion and scallion and cook over medium heat until soft. Stir in the garlic. Add the chopped roasted peppers, raisins, figs, and olives. Cook together for 5 minutes. (Vegetable mixture can be made 1 day ahead. Cover and refrigerate.)

Combine vegetable mixture and bread cubes in large bowl. Stir in the herbs. Season to taste with salt and pepper.

To bake all of stuffing in baking dish:

Preheat oven to 350°F/170C. Generously butter 13 x 9 x 2-inch / 30 X 25 X 7-cm glass or ceramic baking dish. Add enough broth to stuffing to moisten (about 3/4 to 1 cup).

Transfer stuffing to prepared dish. Butter a piece of parchment paper and place butter-side down over stuffing, then seal with aluminum foil. Bake until heated through, about 30 to 35 minutes. Uncover and bake until top is slightly crisp and golden, about 20 to 25 minutes longer.