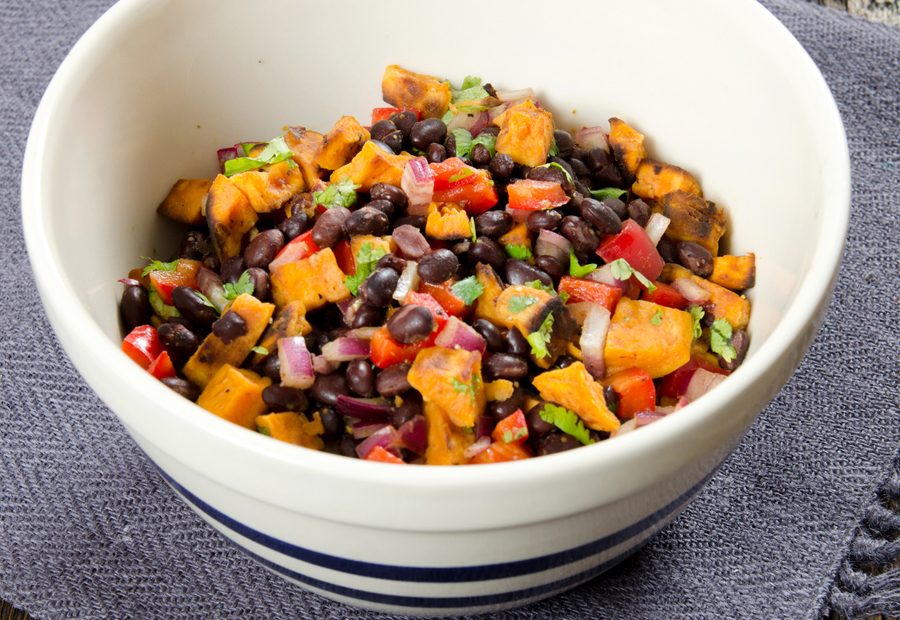 Grec-Mex Black Bean-Sweet Potato Salad
---
Ingredients
For the Roasted Sweet Potatoes

2

large sweet potatoes

peeled, cut into 1/2 inch or 1 cm cubes

3

Tbsp

extra virgin Greek olive oil

1

tsp

sea salt

Black pepper

to taste

1

tsp

cumin seeds,

crushed in a mortar with a pestle, or

1

heaping

tsp cumin powder

1/2

tsp

turmeric powder

1/2

tsp

ginger powder

1/2

tsp

paprika

1/2

tsp

cayenne,

optional

For the Salsa

2

cups

cooked black beans

washed, drained, and rinsed (good quality, low-sodium canned are fine)

¼

tsp

sweet paprika

2

red bell peppers

seeded and diced

2/3

cup

fresh cilantro or parsley,

finely chopped

1

medium red onion

minced

Juice of 1 lime

5

Tbsp

extra virgin Greek olive oil

Sea salt and pepper to taste

To serve

Chopped cilantro or parsley
Instructions
Preheat the oven to 400 F / 200 C.

Layer a baking sheet with parchment paper and set it aside.

Mix the olive oil, salt, pepper, cumin, turmeric, ginger, paprika and cayenne together in a large bowl, and toss the sweet potatoes in this mixture.

Transfer to the prepared pan in a single layer and roast in the oven for 20 minutes or till the sweet potatoes are tender and cooked through. It may take a few minutes more or less depending on the size of the potatoes.

In the meantime, prepare the black bean salsa by mixing all the ingredients together in a bowl.

Add the cooked sweet potatoes. Season to taste with additional salt and pepper. Mix gently but well and serve garnished with additional chopped cilantro.
Notes
Dried vs Canned Black Beans: Dried black beans need to be soaked overnight and then cooked. The length of time needed to prepare them is their biggest drawback when it comes to comparing them to canned beans. But from a nutrition and sodium perspective, dried, soaked home-cooked beans are definitely better and richer in nutrients. If you do go for the canned variety, which can be quite high in sodium, look for low-sodium brands and rinse the beans thoroughly.