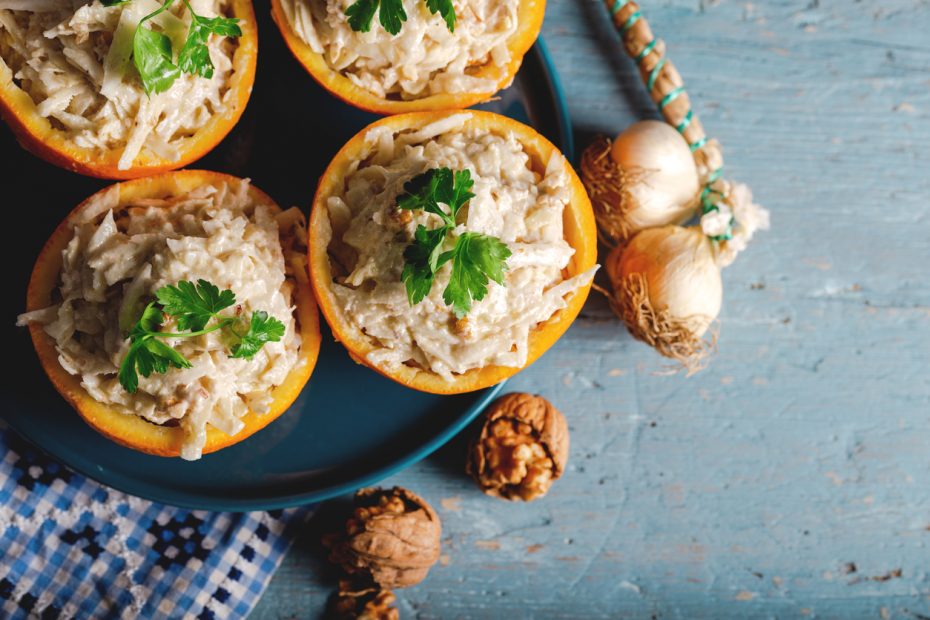 Greek Fish Salad with Mackerel and Capers
---
This Greek fish salad with mackerel and capers is one of many fish salads found throughout Greece, where oily fish such as mackerel are incredibly esteemed. Mackerel is especially high in omega-3 fatty acids and also packs in lots of other nutrients. Mackerel is rich in protein and minerals such as calcium, potassium, selenium, and magnesium. Those minerals are essential for your heart, bones, teeth, nerves, and muscles.Mackerel is also loaded with lots of vitamins, including vitamin B3, vitamin A, vitamin D, choline, folate, vitamin B12, vitamin K, and vitamin E.  
Ingredients
2

Tbsp

Greek yogurt

2

tsp

horseradish

or more, as desired

1/2

tsp

Dijon mustard or mustard powder

Strained

fresh juice of half a lemon

3

Tbsp

strained, fresh orange juice

10

oz/300 g smoked mackerel fillets

1

heaping teaspoon of capers

drained, rinsed, and finely chopped

1/4

cup

finely chopped walnuts

1

small white onion,

finely chopped

2-3

Tbsp

finely chopped celery

2

Tbsp

chopped fresh chives

4

orange halves, hollowed out

Crusty bread to serve the dip on

lemon slices, and baby tomatoes.
Instructions
In a small bowl, whisk together the yogurt, horseradish, lemon juice, orange juice, mustard, and olive oil until smooth.

Break up the mackerel fillets into flaky pieces in another bowl and toss with the capers, walnuts, onion, celery, and chives. Mash all together lightly using a fork.

Combine the fish mixture with the yogurt mixture. Season to taste with salt and pepper and serve on bread slices, bruschetta, inside endive leaves, or, if desired into the hollowed out halves of fresh oranges.