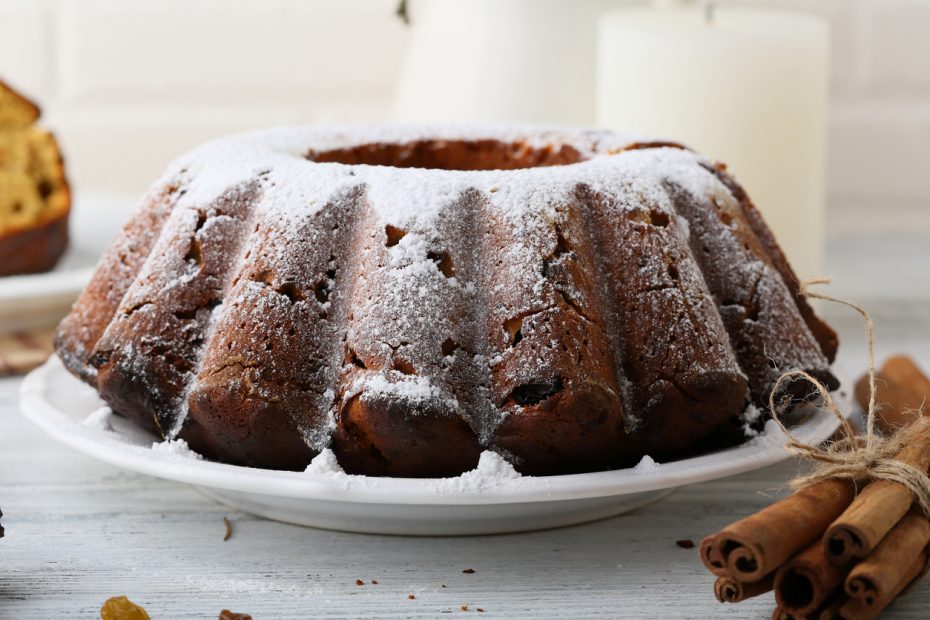 Fanouropita, A Vegan Spice Cake with Olive Oil and Nuts
---
Fanouropita is made on August 27th, to commemorate St. Fanourios, the revealing saint. But you can make this vegan spice cake any day of the year. It's great for breakfast, too! To find some of the artisinal Greek products you'll need to make this, visit my online shop
here
, where you'll discover a host of lovingly curated Greek ingredients.
Ingredients
For one 10- or 12- inch / 25- 27-cm cake

4 ½

cups

self-rising flour

1

tsp.

each of ground cinnamon

ground cloves, and ground nutmeg

Grated zest of 2 oranges

¾

cup

sugar

1

scant tsp. baking soda

2

cups

fresh orange juice mixed with 1 cup water

3

tablespoons

brandy or orange liqueur

1

cup

seedless dark raisins mixed with 1 cup of either coarsely ground walnuts or almonds

Confectioner's sugar for garnish
Instructions
Preheat the oven to 350F/175C. Lightly oil a 10- or 12-inch round baking pan.

Combine the flour, spices, and zest in a bowl and set aside.

In the bowl of an electric mixer, whisk together the olive oil and sugar at medium speed until creamy.

Dilute the baking soda in the orange juice mixture in a medium bowl.

Reduce speed on mixer and add the orange juice-baking soda mixture and brandy or liqueur. Whisk until smooth.

Replace the whisk attachment with a paddle to mix in the dry ingredients, raisins and nuts, or, alternatively, do so with a spatula or wooden spoon.

Transfer the batter (it will be dense and sticky) to the baking pan. Spread evenly. Bake the Fanouropita for about 35 to 40 minutes, or until a toothpick inserted in the center comes away clean.

Remove the cake, cool and then transfer to a rack to cool completely. Dust generously with confectioner's sugar and serve.