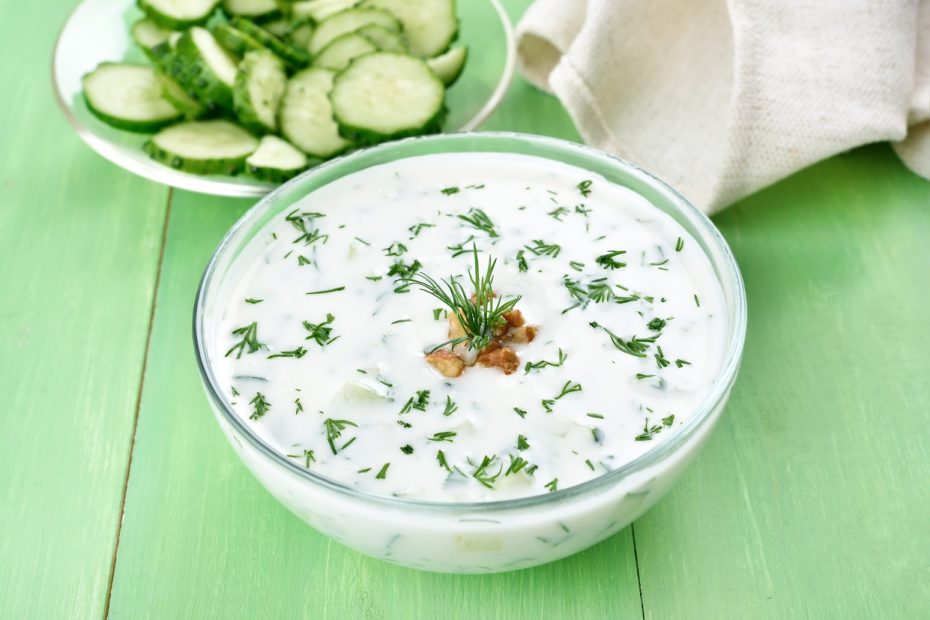 Cool as a Cucumber Chilled Greek Yogurt Soup
---
Throughout the Eastern Mediterranean, yogurt is a basic ingredient, the use of which dates back thousands of years. Fermented dairy has always been an important source of nourishment in this part of the world. Some of these soups, such as the Armenian Spas, contain cooked wheat berries and are served hot. Others, like Turkish and Greek tarator or taratori respectively, are meant to be refreshing meals on hot days. You can experiment with your own additions to this nourishing, cooling soup. It's a great dinner party dish that can be made ahead and served chilled, garnished elegantly with whatever you like.
Instructions
Cut the cucumbers into fine dice and set them aside. Do not grate them!

Empty the yogurt into a large bowl and whisk with enough water to reach the consistency desired for soup. You can make it as thick or thin as you like.

Add diced cucumber, minced garlic, walnuts, and dill and stir gently to combine. Season to taste with salt. Swirl in about 2 – 4 tablespoons of olive oil, as desired. Chill the soup, covered, for 3 hours. Taste and adjust seasoning and consistency with additional salt and/or water, as desired, just before serving.

Serve cold.
Want to learn more easy, healthy Mediterranean diet recipes? Sign up for my online course "Mastering the Mediterranean!"
Love soup? Check out my online class "Comfort in a Soup Bowl!"