As I write this, I have just returned from NYC, where the mercury refused to budge above about 20 degrees F. Bone-chillin' cold. In Greece, it's winter too, of course, not quite as frigid but still cold enough for soup, my favorite winter food.
Despite the winter and the need for warming foods, soup is a little underrated in Greece and climate is why. It's usually too temperate to need soup, so the tradition never really evolved. Sure, there are exceptions, as in the fabulous fishermen's soups found all over the Aegean and Ionian, the special holiday soups, such as mageiritsa, to break the Easter fast, and the egg-lemon soups (avgolemono) that have become synonymous with Greek cuisine all over the world.
Many of the most traditional soups, including beef and vegetable soup and fish soups galore, are more like excuses for boiling the meat, fish and vegetables, only to serve them separately, with a little broth as a starter. There are some regional specialties, such as the yogurt soups of northern Greece, brought to the region by the Greeks from the Caucasus, and the tomato-bulgur soups of Crete and elsewhere in the Aegean, very simple dishes that evolved from the pared down, elemental cooking of the Greek islands.
By and large, though, beans are the mainstay of the Greek soup tradition. Greek bean soups are usually simple, seasoned with a few key ingredients, olive oil first among them. Chick peas, lentils, white beans, giant beans and yellow split peas are the main legumes and beans with which these soups are prepared. Some, especially those made with chick peas, are often baked in clay, with results that are somewhere between a soup and a thick, luscious stew. The best-known clay-baked chick peas soup comes from the island of Sifnos, in the Cyclades.
For more great Greek soup recipes, including trahana and lentil classics, check out the specific soups page on this site.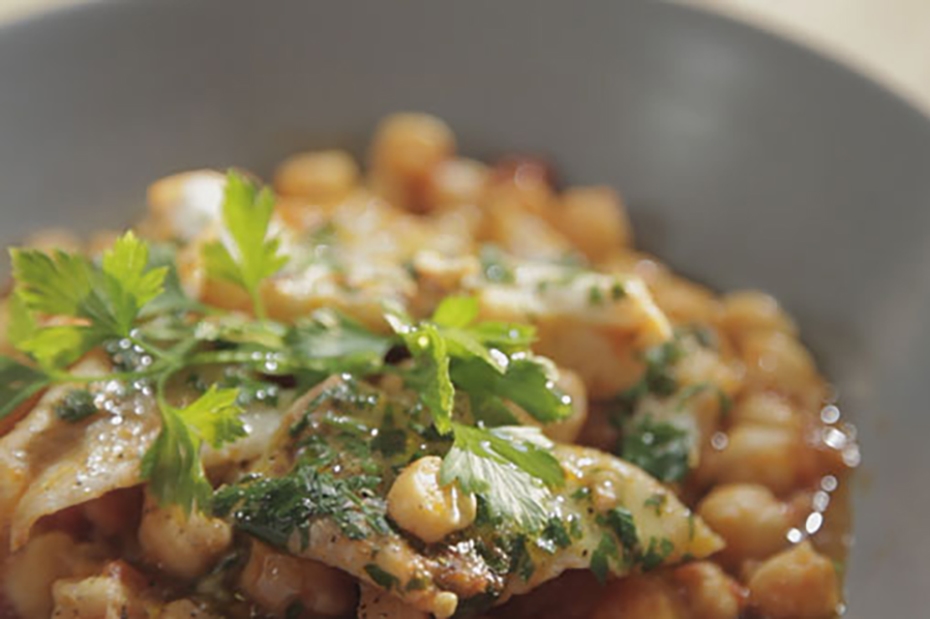 Cretan Chick Pea Soup with Cod
This soup is traditionally made in and around Rethymnon on the feast day of St. Eleftherios, which falls on December 15th.
750gr (26.5oz) cod fillet, cut into strips of 5x10cm (2×4 inches)
1/2 kilo (17.5oz) chick peas, soaked overnight
2/3-1 cup extra virgin Greek olive oil
2 medium-sized onions, cut in half and then into thin slices
4-5 large ripe tomatoes, peeled, seeded and cut in cubes or 3 cups finely chopped, canned tomatoes
Juice of a lemon
1/2 bunch finely chopped parsley
Salt and pepper
Place the soaked chick peas in a pan with enough water to cover them by 2cm (0.8 inch). Allow them to come to a boil. Lower the heat and simmer for 50 minutes to an hour, skimming the froth off the surface.
In a medium frying pan heat 1/3 cup olive oil and sauté the onions for 7-8 minutes.
Add the onions and tomato to the chick peas. Season and simmer until they are very soft, approx. 1- 11/2 hours.
Twenty minutes before you remove from the heat add the cod.
Add the rest of the oil and juice of a lemon during the 5 final minutes. Garnish with the parsley.
Bean Soup with Vegetables and Orange Zest from Hania – Haniotiki Fasolatha
6 servings
227gr (½ lbs) dried navy beans, picked over and rinsed
1 cup extra virgin Greek olive oil
1 ½ cups red onion, finely chopped
1 cup finely chopped celery with leaves or ¾ cup chopped wild celery (sometimes called Chinese celery) with leaves
1 large carrot, chopped
¾ cup tomatoes, peeled, seeded, and chopped (canned are fine)
1 large strip orange zest
Salt to taste
Soak the navy beans for 6-8 hours or overnight. Drain and rinse. Place in a pot with enough fresh water to cover them by 7.5cm (3 inches). Bring to a boil, remove from the heat, and drain. Place the beans back in the pot with enough fresh water to cover them by 7.5cm (3 inches), bring to a boil, reduce the heat to medium-low, and simmer for 30 minutes.
Meanwhile, heat 1/3 cup of the olive oil in a large, heavy skillet over medium-low heat. Cook the onion, celery, and carrot, stirring with a wooden spoon, until softened, about 10 minutes.
Add the sautéed vegetables to the beans, together with the tomatoes and another 1/3 cup of the olive oil. Simmer slowly until the beans are very tender and the soup is thick and creamy, 2 to 2 ½ hours, depending on the age and condition of the beans. About 20 minutes before removing from the heat, add the orange zest and season with salt. Just before removing from the heat, pour in the remaining olive oil.
* You can add sour trahana, called xinohondro in Crete, to this soup. Add ½ cup halfway through cooking.