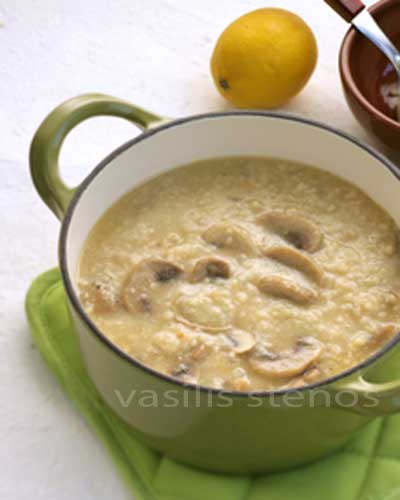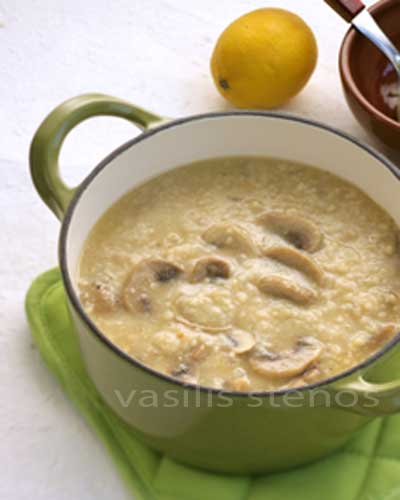 Trahana Soup with Mushrooms / Trahanosoupa me Manitaria
2013-06-25 17:14:58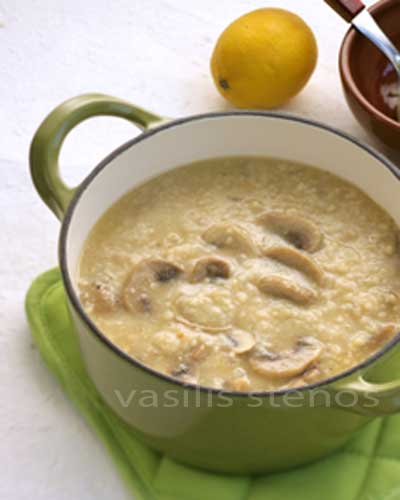 Serves 8
Trahana brings to mind all the frustrations of childhood. The pebble-sized sour-milk pasta typically hand-made at the end of the summer in rural Greece and kept in cotton sacks for the winter, is the kind of food that mothers relentlessly try to force on their young, and one which, with equal fortitude, children just resist. It is an adult's palate, finally, that is required to really appreciate this unique and healthful grain product. Trahana is a standard addition to simple winter soups in Greece. Mixing milk and flour to form a dough, which then dries and is milled to granular consistency, was one way for farmers to preserve milk for the winter. Now, trahana is widely available commercially–in Greek and Middle Eastern markets across the United States. When cooked, this unusual pasta becomes creamy and thick. The soup below is not a traditional recipe for trahana soup but one inspired by an old friend, Takis Petrakos, one of the most creative Greek cooks I have ever met.
Ingredients
1/4 cup plus 2 tablespoons extra virgin Greek olive oil
1 1/2 pounds mushrooms (common field mushrooms or a combination of field
and small wild mushrooms work well), trimmed and sliced
2 cloves garlic, minced
2 medium onions, peeled, halved, and sliced thin
1 cup trahana
6 cup water
Salt and freshly ground black pepper, to taste
Juice of 1/2-1 lemon
1/3 cup grated kefalograviera cheese (optional)
Instructions
1. Heat 2 tablespoons olive oil in a skillet and saut the garlic for one minute. Add the mushrooms and stir to combine. Cook over medium flame for about five minutes, cover, and continue cooking another 10 minutes.
2. In the meanwhile, heat the remaining olive oil in a large pot. Add the onions, and cook over medium heat until wilted but not browned, about 7-8 minutes. Add the trahana and stir with the onions for several minutes. Pour in the water. Bring to a boil, cover and simmer for about 15 minutes, or until the soup begins to thicken.
3. Add the mushrooms and all their juices to the pot, and continue cooking another 10 minutes. Season with salt, pepper and lemon juice, and serve hot, topped if desired with grated Kefalograviera cheese.
Greek Food - Greek Cooking - Greek Recipes by Diane Kochilas //www.dianekochilas.com/