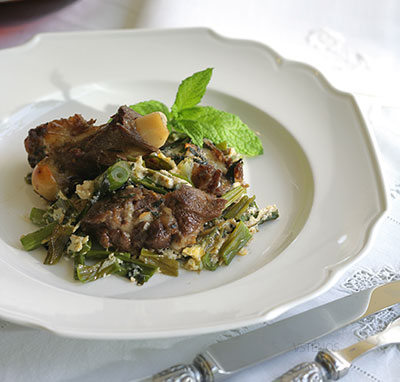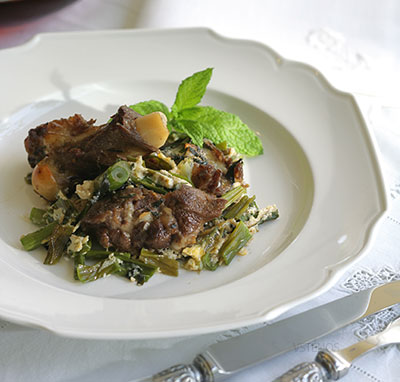 Egg-Crusted Goat Roasted on a bed of Scallion Greens (Katsikaki tis Ormas me Avga kai Kremydakia)
2013-10-20 00:29:56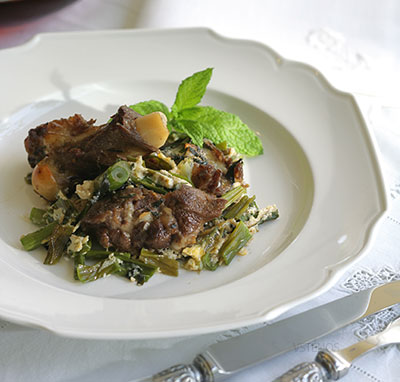 Serves 6
Meat, and even fish, roasted over vegetables is a recurring theme in the country cooking of Epirus, Macedonia and Thrace. The vegetables vary from place to place and season to season, from leeks and scallions to spinach and Florina red peppers. This particular dish, rich in spring vegetables and eggs, is a regional Easter specialty.
Ingredients
Leg of goat, bone in, 3-4 kilos / 7-8 lbs. or 2 ½ kilos /6 lbs. stewing pieces with bone
Salt and freshly ground pepper to taste
2/3 – 1 cup extra-virgin olive oil, plus extra for rubbing if using leg
2 ½ kilos / 5 pounds scallions, tender greens only, washed and cut into 1-inch / 2,5 cm pieces
2-3 Tbsp. sweet paprika, to taste
2 cups fresh chopped mint
2 cups water
3 large eggs
Instructions
1. Rinse and pat the meat dry with paper towels. If using the whole leg, season with salt and pepper and rub with olive oil, then heat 1/3 cup of the olive oil in a large flameproof baking pan over high heat. Add the meat and sear in the oil, turning to brown on all sides. If using stewing pieces, season with salt and pepper, then heat 1/3 cup of the olive oil in a Dutch oven or large, wide stewing pot and brown the meat over high heat. Remove from the pan or pot. Preheat the oven to 190ο C (375ο F).
2. Meanwhile heat 1/3 cup of the remaining olive oil in a large, wide pot over medium heat, add the scallion greens, reduce the heat to low, and cook, stirring, until wilted, 7-8 minutes. Season with salt and pepper and add the paprika. Cook, stirring, until very soft and deep red, after the addition of the paprika and well blended. This will take about 10-12 minutes or so. Remove from the heat and mix in the mint.
3. Spread the scallion mixtures over the bottom of a large roasting pan. Place the meat (leg or stewing pieces) on top and place in the oven. Adjust the seasoning with salt and pepper, add the water, and roast, covered with aluminum foil, until the meat is very tender, about 1 ½ - 2 hours. About 15 minutes before the meat is ready, beat the eggs and pour over the scallions. Remove the foil and continue baking until the eggs form a crust. Remove from the oven, let cool slightly, and serve.
Notes
6 – 8 servings.
Greek Food - Greek Cooking - Greek Recipes by Diane Kochilas //www.dianekochilas.com/