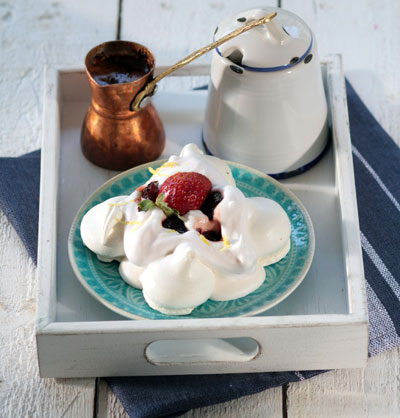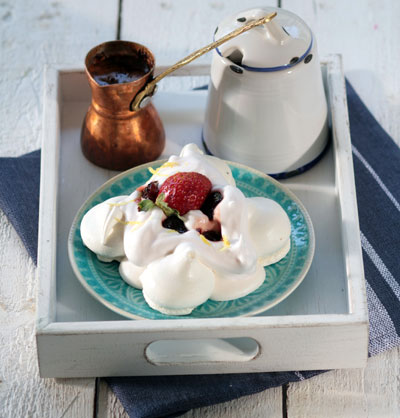 Greek Yogurt Pavlova with Vyssino (Sour Cherries)
2013-07-16 12:45:55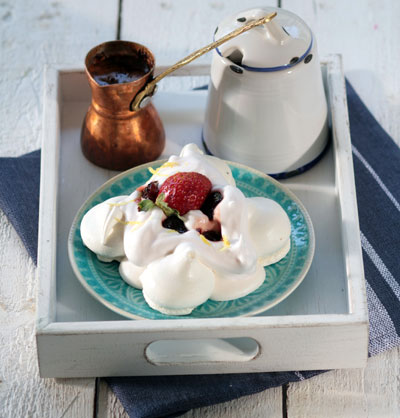 Serves 6
Ingredients
Fresh summer berries of choice, rinsed and very well drained
4 tablespoons Vyssino spoon sweet
1 cup chilled heavy cream
1 cup Greek strained yogurt
2 tsp. confectioner's sugar
Grated zest of 1 lemon
6 miniature meringue bases, 4 inches in diameter*
Instructions
Combine the fresh berries and vyssino in a bowl and set aside for a few minutes.
Place the chilled cream and confectioner's sugar in the bowl of an electric mixer and whip at medium-high speed until stiff peaks form. Using a rubber spatula, quickly fold the whipped cream and lemon zest into the yogurt.
Spoon a little of the whipped cream-yogurt mixture over each of the meringues. Drizzle with the fruit and vyssino mixture. Serve immediately.
Notes
Vyssino is one of countless Greek spoon sweets, which are essentially whole fruit, nut or young vegetable preserves in simple syrup. They are made throughout the year depending on what is in season. You can find them in Greek and Middle Eastern food shops.
Greek Food - Greek Cooking - Greek Recipes by Diane Kochilas //www.dianekochilas.com/