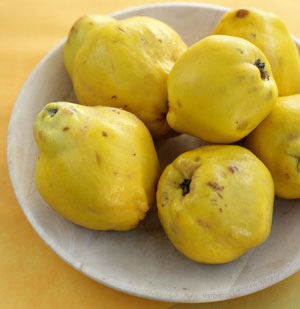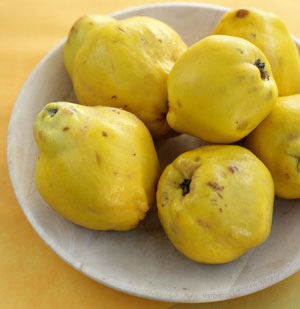 Homemade Quince Paste
2013-11-16 19:18:12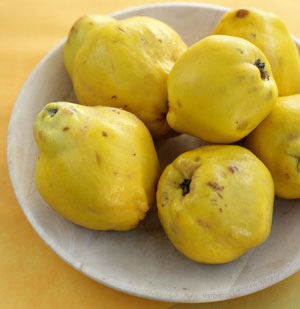 Quince, an ancient fruit in Greece and still a much-treasured one, is savored this time of year in many unusual recipes. Among them: chicken, lamb, beef, or pork stewed with quince (in place of potatoes); savory spicy ground meat-stuffed quince; quince jams and marmelades and spoon sweets; and, best of all, quince paste, what the Spanish know as membrillo and the Greeks as kydonopasto. Kydoni is the Greek word for quince. Quince is naturally rich in pectin, one reason why it's often added to jams and marmalades, as a thickener. 
Ingredients
5 pounds quince
3 cups sugar
½ cup water
Instructions
Peel the quince and set aside their skins.
Quarter each fruit and remove the seeds. Set the seeds aside, too.
Tie up the seeds and skins in a cheese cloth.
Place the cleaned, sliced quince, sugar and water in a large pot. Bring to a boil over medium heat. When the sugar dissolves, add the cheese cloth.
Lower the heat and simmer, covered, for about 1 ½ hours, or until the quince are very soft. You might need to add a little water during the simmering.
Preheat the oven to 325F /160C.
Remove the pot with the quince from the heat. Carefully remove and discard the cheese cloth. Using an immersion blender, mash the quince in the pot. (You can also transfer in batches to the bowl of a food processor to mash.)
Spread the quince in a large baking pan and even out the top with a rubber spatula. Bake until it is set, about 35-40 minutes. Remove from oven, let cool, and cut as desired, into squares, rectangles, or diamond shapes.
Notes
Quince paste makes a great "edible gift." You can wrap each individual piece decoratively in colored plastic.
One of my favorite ways to serve quince paste is with really good Greek sheep's milk cheese that's sharp and pungent. If you can find aged kasseri, it makes for a delicious combo. Kefalotyri and aged graviera also work.
Greek Food - Greek Cooking - Greek Recipes by Diane Kochilas //www.dianekochilas.com/