What Are the Foods of Greek Carnival?
How Do Greeks Celebrate Carnival?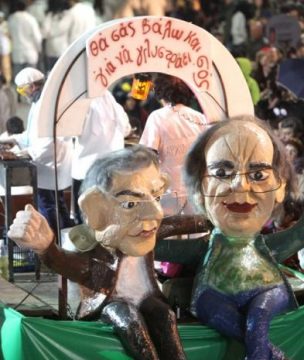 During Greek Carnival, the festive four-week period before the start of Lent, Greeks, even in crisis, revel in Dionysian-like rituals and food galore. Pagan rituals are everywhere, despite the Christian ethos of the period. In Tyrnavos, a town in Thessaly, on the mainland, the last weekend of Carnival is an orgiastic revelry during which partiers cavort about with phallic symbols prominently hanging from all sorts of unexpected places. Patras, Greece's third largest city, is our own Rio, alive with floats and wildly costumed participants.
But it's in the food that I find the most interest, because the Carnival table, meant to provide the means to wean Greek gradually l off meat and dairy, is also rife with more than a few hints of a pagan past. Carnival, or apokries, meaning "away from meat" in Greek, ends on the Sunday before the start of Lent, which is tellingly called "Clean Monday," which this year is February 19th. (Other food traditions are part of the Clean Monday holiday.)
Festivities heat up as the final days draw near, and food plays a significant role in many of the rituals surrounding this ancient fest. Greeks don't have a Fat Tuesday, per se, but they do have a Smokey Thursday, which occurs during the third week of Carnival. On Smokey Thursday—Tsiknopempti—meat is indulged in, with a special emphasis on grilled chops and other cuts suitable for a barbecue. Since most Greeks don't barbecue at home, Tsiknopempti is one of the busiest restaurant days of the year.
Most of Carnival specialties are made during the final week, when cheese and dairy are embraced, if only to be forfeited in preparation for the 40 days of abstention during Lent. Many Greeks still observe the period's rigorous fast. Cheese pies and egg noodles with grated cheese and butter are the two most common, and simplest, dishes during the last week of Carnival, which culminates in a holiday called Cheese Sunday (February 18th this year).
Buttery phyllo-wrapped cheese pies—savory and sweet—come in countless variations from all over the country. In some areas, such as Crete, most of these pies are more like crepes or cheese-filled pancakes than veritable pies. They usually contain one or more local island cheeses, especially a soft, sour fermented rendition called xinomyzithra, and its sweet cousin, the soft, spreadable myzithra.
Many of these pies are drizzled with Cretan thyme honey before serving. One of my favorite such recipes is for the «water» myzithra pies, which require a certain skill to prepare—and water! You need to keep your hands wet to handle the sticky, yeasty dough easily. This you shape into small balls and fill with cheese—that famous but hard to find myzithra—all with a quick economy of movement before flattening the pie in the palms of your hand and dropping it into a frying pan filled with hot Cretan olive oil. What results looks like a pancake and is invariably drizzled with honey.
Similar skillet pies from Crete include one called «Virgin Pie» (reason unknown to every Greek food historian I asked) and another called Sfakiani Pita, from the southern prefect of Sfakia. These are as thin as crepes and now come frozen for Athenians like me who want be able to make them without fuss.
Whether it's Carnival time or not, cheese pies are a huge part of the Greek kitchen , with roots in the country's shepherds' traditions everywhere. On Crete, indeed on many of the islands, most pies, cheese-filled and not, are cooked in a skillet because olive oil was plentiful but forests—hence wood for ovens—were not. But on the mainland and in the north of Greece, baked pies are the norm. Without a doubt, Epirus, in the northwestern part of the country, is home to the largest variety of pies made with cheese and other dairy products. (One specialty is the intriguing «milk» pie, which is a kind of custard that can either be savory or sweet and is usually made more substantial with the addition of rice or trahana, a grain produce made by mixing cracked wheat or flour with one of several dairy products, drying the mass in the sun, and breaking it up into small pebbly pieces.
Pasta is another Carnival specialty all over Greece, and there are ancient reasons why. Macaroni (yes, it's a Greek word), was the food cooked in honor of the dead (makarioi). In fact, the funerary meal is called the Makaria to this day. Carnival has its roots in the pagan traditions surrounding the death and rebirth of nature. In ancient Greece, it was believed that the dead came back to earth in the spring, when everything flourishes. In their honor, foods that were essentially primitive macaroni, sometimes nothing more than dough strips grilled on stone griddles, were prepared.
Nowadays, pasta is consumed with great delight in the week before Lent, and especially on Cheese Sunday. The array of Greek regional pasta dishes is surprising, especially to most non-Greeks who probably don't associate the country with the tradition. There is a huge gamut of regional pasta shapes and an even larger selection of recipes. One of my favorites is from the island of Kassos. The dish is called makarounes and it consists of ziti-like local pasta served with caramelized onions, browned butter and a sour yogurt-like cheese called sitaka (Greek yogurt is a suitable substitute). I first published the recipe in The Glorious Foods of Greece and it was picked up by two writers I respect tremendously: Amanda Hesser in a New York Times article when the book came out and, more recently, Amy Sedaris in I Like You – Hospitality Under the Influence.
All sorts of cheese-filled ravioli-type pasta is made on Cheese Sunday, from the ravioles [sic] of Cyprus to the manti of the Black Sea Greeks. Then there is the slew of macaroni pies, sometimes nothing more than pastitsio (baked pasta, ground meat and bechamel) wrapped in phyllo, but potentially as elaborate as the baroque Pastitsio Venetsianiko of Corfu, a throwback to the Venetians' rule on the island. This is a dish filled with bits of cheese and cured or cooked meats and was typically made in a pan as tall as a top hat. Lots of starch and dairy play out in tasty duets all during Carnival, but pasta or phyllo with meat also have a place. Meat pies and meat-stuffed pasta abound. One of the most unusual recipes is for the passa (from the Greek pahia, which means fat) makaron of Kos, which calls for blanching sheets of pastry before placing them between layers of meat and cheese, then baking.
Take a look through my site to find a variety of delicious cheese pies, cheesy pasta dishes and grilled lamb and pork chops and other carnivorous pleasures…for a taste of Carnival, Greek style.