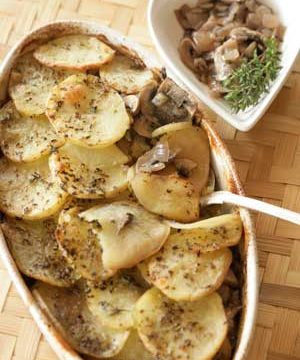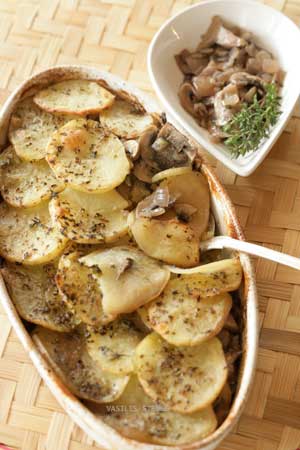 Potatoes au Gratin without Cheese
2013-06-23 18:12:19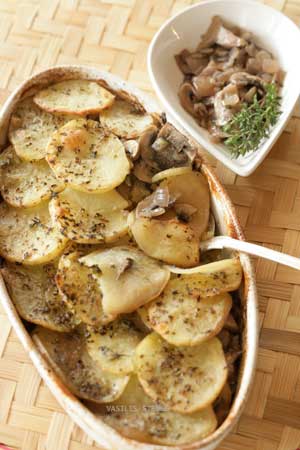 Serves 4
Potatoes au gratin don't sound particularly Greek, do they? In the Greek kitchen there are several Lenten and fasting dishes that call for potatoes as a main ingredient, mainly in stews with tomatoes, olives, and herbs. This dish can easily be served as a main course during Lent or if you're vegan or vegetarian. It does go well with a little feta, too. As for the mushrooms, Greece, a mountainous country blanketed in forests (not all of them have been burnt yet…), is a mushroom lover's paradise. Porcini are called Vasilomanitara here. You can find Greek porcini in Greece, at shops like the Pantopoleion, on Sofokleous Street in Athens. Most Greek packaged dried mushrooms come from the north, especially Macedonia and Epirus. There are also a few companies that cultivate fresh mushrooms. Remember to check out all my Lenten recipes, too. Vegans and vegetarians will find a treasure trove of delicious, unusual dishes.
Ingredients
1 package dried porcini mushrooms or 2 tsp.
2/3 cup extra virgin olive oil
1 red onion, finely chopped
2 cloves garlic, finely chopped
½ pound / 450 g white button mushrooms or cremini, rinsed and patted dry, cut into thin slices
½ cup dry red wine
3 large potatoes, peeled and cut into very thin rounds
½ bunch parsley, finely chopped (leaves only)
4-5 sprigs thyme, leaves only, finely chopped
1 small sprig rosemary, leaves only, finely chopped
2 tbsp dried Greek oregano
Salt and pepper
Instructions
If using dried porcini, soak in warm water until soft, 15-20 minutes. Drain and reserve the water.
Preheat oven to 375 degrees F / 180 degrees C.
In a large skillet, heat 2 tablespoons oil and sauté the onion and a pinch of salt over medium heat until the onion starts t caramelize, about 10-12 minutes. Stir in the garlic. Add the sliced button or cremini mushrooms and the porcini, if using. If not using porcini, stir in the m ushroom powder. Stir all together for flavors to meld and intensify. Add the wine and half of each herb. Season to taste with salt and pepper and simmer until the mushrooms are tender but still have some bite in them.
Toss the potatoes with the remaining olive oil, salt, pepper, and remaining herbs. Lightly oil an oven-proof baking dish large enough to layer the potatoes and mushrooms in. Spread one-third of the potatoes in one layer on the bottom, overlapping the slices a little. Pat down. Remove the mushrooms with a slotted spoon, reserving any cooking liquid. Spread half the mushrooms over the potatoes. Cover with one-third more of the potatoes, the other half of the mushrooms and finish with a last layer of potatoes. Pat down.
Pour in any pan juices from sautéing the mushrooms as well as the porcini soaking liquid, if you used them. Cover the pan with aluminum foil and bake fr about 35 – 40 minutes, or until the potatoes are tender. About 10 minutes before removing from oven, remove the foil and continue baking until the top layer of potatoes is lightly browned. Remove, let rest for 5-10 minutes and serve.
Greek Food - Greek Cooking - Greek Recipes by Diane Kochilas http://www.dianekochilas.com/