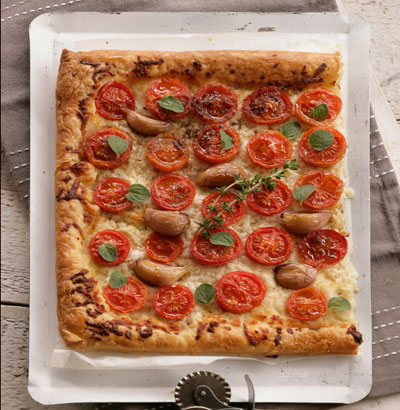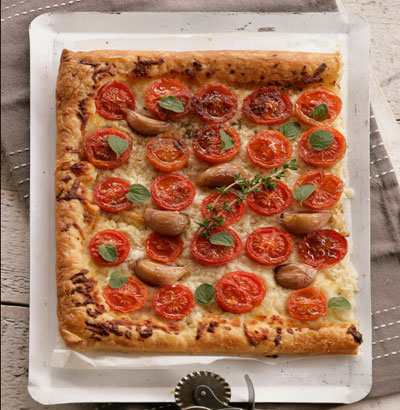 Haloumi-Tomato Puff Pastry Tart
2013-06-23 16:25:09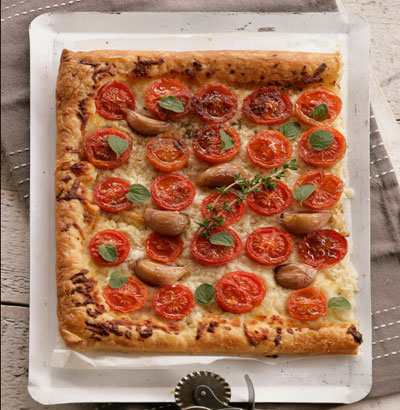 Serves 4
This recipe is so easy, so elegant and so tasty it's an instant winner. To find the Greek olive oil and cheese needed to make it,
click here
.
Ingredients
12 garlic cloves, with skins
6 tablespoons extra virgin Greek olive oil
20 cherry tomatoes, cut in half
Salt and pepper
1 sheet of puff pastry
7 oz. / 200g haloumi cheese, coarsely grated
1 tablespoon fresh oregano
2 teaspoons fresh thyme
Instructions
Preheat the oven to 370°F/180°C.
Place the garlic in a small piece of tin foil and pour 1 teaspoon olive oil over it. Fold up the edges of the foil to form a parcel. Set aside.
Toss the tomatoes with the rest of the olive oil, salt and pepper. Place cut side up in a shallow dish. Place the garlic parcel in the middle, between the tomatoes. Roast for 20 – 25 minutes until the tomatoes are soft but not disintegrating. The garlic should be soft. Remove the tomatoes and turn up the heat to 400°F /200°C.
Line a sheet pan with parchment paper. the oven's Lightly flour a work surface. Remove the puff pastry from the package and place on the floured work surface. Roll open gently with a rolling pin to get a piece about the size of the pan. Trim the edges.
Transfer the fresh pastry to the baking sheet. Using a fork create tiny holes on the pastry surface. Place the pastry in the fridge for 20 minutes.
Sprinkle the haloumi on the pastry surface, leaving a ¾-inch / 2cm space around the border. Place the tomatoes, cut side up, in rows, over the cheese. Place the softened garlic cloves between the cheese. Sprinkle the herbs over the surface of the pie and bake until the pastry is puffed and lightly golden, about 20-25 minutes. Remove, cool slightly and serve.
Serve hot or at room temperature.
Greek Food - Greek Cooking - Greek Recipes by Diane Kochilas http://www.dianekochilas.com/